'It would absolutely finish Gary to know Alya slept with Jason,' says Corrie's Mikey North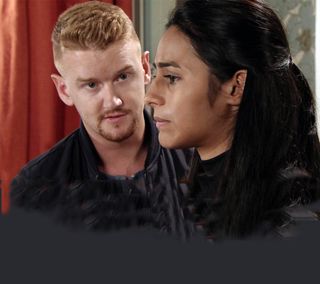 There's heartbreak on Coronation Street when Alya tells Gary she cheated on him. Mikey North tells Soaplife what happens…
Gary Windass loves fiancée Alya Nazir so much that he even gave up his ale for her. But when Alya reveals she cheated on him we're thinking he'll jump right off the wagon and go after the other man…
"When Alya confesses to being unfaithful Gary's absolutely blown out of the water with shock," says Mikey (opens in new tab). "Never for one second has he ever suspected that Alya's even looked at another man and it's the last thing he expected."
Tell us how Alya's confession comes about?
"She's been keen to get married fast and Gary's been a bit baffled by this. Then Alya [Sair Khan (opens in new tab)] suddenly suggests they elope. It's like she's making rash decisions out of the blue. Gary puts it down to the impact of losing her dad, but then she comes out with her confession."
Does he want to know who she slept with?
"Of course! But she refuses to tell him. That's bad enough but the fact she's been unfaithful at all feels like an even bigger betrayal. She's always stood by her beliefs and he was more than prepared to wait to sleep with her until they were married."
Alya says she did it because she was grieving for her father, Kal (Jimi Mistry (opens in new tab)). What does Gary make of this?
"He's so devastated by what she's just told him that he almost can't hear what she's saying to him. All he can think about is her betrayal and how much he needs to know who she slept with."
How would he react if he knew it was Jason (Ryan Thomas (opens in new tab))?
"It would be like the end of the world to him. To find out that Alya had been unfaithful with his best friend - who Gary's just asked to be his best man - would absolutely finish him. I don't think he'd be able to cope with that."
Then Gary drops his own bombshell, doesn't he?
"Yes. He tells Alya's grandparents and brother what she did. In that moment, Gary doesn't feel bad about shaming her because he's driven by anger and hurt. He wants Alya to feel the same kind of hurt he's feeling."
Does Gary have any idea who Alya might have slept with?
"No. He's so angry she won't tell him. And there's plenty more drama to come."
Coronation Street (opens in new tab), ITV
Get the latest updates, reviews and unmissable series to watch and more!
Thank you for signing up to Whattowatch. You will receive a verification email shortly.
There was a problem. Please refresh the page and try again.