Julia Goulding: 'I hope Corrie fans will realise Shona has a good heart, despite being Clayton's mum!'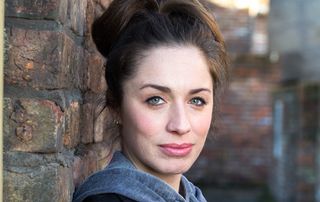 (Image credit: Mark Bruce)
The Weatherfield newcomer Shona Ramsey revealed all to Gail on Monday after finding out about David's plot to kill Clayton
We always knew that Corrie's Shona Ramsey was hiding something – and now we know what! During a heart-to-heart with Gail on Corrie, she revealed that she was the mother of Kylie's killer, Clayton Hibbs.
Actress Julia Goulding opens up about her character's troubled past – and reveals how landing a part in the ITV1 soap is a dream come true.
So, the truth about Shona is finally out! Has it been difficult to keep that secret? "So, so hard, I didn't tell anybody. It's been really difficult but I'm really excited about it being revealed, finally!"
Have you seen all the theories online about who Shona could be? "Yeah, I've seen quite a few. I think my favourite one was that I'm Kylie's mum – I'm pretty sure Paula Lane and I are the same age! With Shona visiting Kylie's grave, a lot of people were convinced that Shona knew her, and obviously the connection was that she knows her killer, so that threw people off the scent a bit. That's been enjoyable because it means more theories have come up and I could sit back and be like 'ha ha ha!'"
Do you think viewers will still like Shona, knowing that her son killed Kylie? "I'm hoping that they've got to know her enough to know that she is a good egg, underneath it all. She's a survivor, and she's somebody that makes decisions based on self-preservation, so I hope they've seen a good heart. And also she didn't kill Kylie. I know she's lied, but it's for the right reasons in her head."
Can you fill us in on Shona and Clayton's relationship? "Shona raised Clayton on the estate next to the Dog and Gun pub until he was about 10, with absolutely no contact with his dad; she kept this tiny little world for the two of them, where they were safe. But then the father got in touch and Clayton wanted to know more about him, which Shona did not want to happen – and which pushed him towards his dad even more. He was a very bad influence on him, and Clayton and Shona ended up arguing a lot, so Clayton left and went to live with his dad, which developed his character from a sweet, young boy into someone who killed someone when he was 16."
How old was Shona when she had Clayton? "She was 13, and she's 29 now. The lad who plays Clayton is 18 and I'm 32, so I actually could be his mother, which is the scary thing!"
Is Shona carrying a lot of guilt, knowing that she's living in the same place where Clayton killed Kylie? "Absolutely. It was all kind of by accident on Christmas Day. Billy took her in, and when she realised where she was, she'd already settled in and had a home there. Obviously, she didn't realise that she'd be having so much contact with the Platts, so she's torn between doing maybe the right thing and leaving, but then she's really happy in the life that she's now created after going through the trauma of Clayton being put inside and knowing her son's a murderer."
What is her relationship with Clayton like now? "He resents her, but I think a lot of it is bravado because he doesn't want to show a softer side. She has seen him in prison, but she hasn't been back."
Can you tell us about the pact that Shona and Gail have now made? "Shona found out about David turning the car into a suicide vehicle, so then Shona confessed to Gail that she's Clayton's mother, because she just had to get it off her chest. There's been nothing calculated in her keeping this secret, apart from self preservation. So they've make a pact not to tell anybody. We'll see if that works out!"
Shona and David have formed a bond – what impact would it have if David found out she was Clayton's mum? "Knowing David, he's not one to take things lightly, so I imagine if he found out, it would be quite explosive."
Shona has a burn on her shoulder – is this tied to her relationship with Nathan? "Yes it is. Nathan and Shona used to go out. Obviously, we've seen what he's doing with Bethany at the moment, and he tried to do that with Shona, but she was like 'No way!' hence she found herself homeless on Christmas Day. So when Nathan came to the Street, it was to follow Shona, to try and get her back, and then he found Bethany. So she's got cigarette burns on her shoulder that he inflicted."
Could Shona be redeemed in the eyes of the Platts if she saved Bethany? "Possibly. It would be a good way to get back in the good books, but who knows?"
What other jobs have you had before joining Corrie? "Since I graduated from drama school five years ago, I've mainly done Shakespeare plays and lots of voiceovers, so this is my first television job. For it to be Coronation Street, that I've watched since I was born – I had my fifth birthday at Granada Studios Tour because I wanted to be on that Street – it's wonderful!"
What's so special about Coronation Street? "It's an institution, it's the longest running soap and there's wonderful mix of drama with the comedy; I love that about it. You can be in any mood and watch it, you can cry, you can laugh. I laugh out loud sometimes when I read some of the scripts and see the one-liners."
Have you felt pressure because Shona has been compared to Kylie? "At first I was worried, but they're completely different characters. I know that they've had children young and come from the same sort of place, but I think Shona has an optimism about her that Kylie didn't, and I don't think she's as brash. Paula Lane is such a fantastic actor. I feel that I'm not following in her footsteps but walking next to them."
What's it like working with David Neilson, who plays Roy? "It's wonderful; he's so funny. We play daft games in between takes where you sing the first line of a song and then you've got to guess the rest of it. I actually said to him after we'd done a scene, 'Roy makes me so nervous' because he was just hovering near me, and he said 'He makes me nervous, too!'"
How long are you here for? "I'm here till October for definite."
You're hoping to stay on? "Hopefully, if the audience like the character enough and they like my work enough. Fingers crossed!"
Get the What to Watch Newsletter
The latest updates, reviews and unmissable series to watch and more!
Alison Slade has over 20 years of experience as a TV journalist and has spent the vast majority of that time as Soap Editor of TV Times magazine.
She is passionate about the ability of soaps to change the world by presenting important, issue-based stories about real people in a relatable way.
There are few soap actors that she hasn't interviewed over the years, and her expertise in the genre means she has been called upon as a judge numerous times for The British Soap Awards and the BAFTA TV Awards.
When she is not writing about soaps, watching soaps, or interviewing people who are in soaps, she loves going to the theatre, taking a long walk or pottering about at home, obsessing over Farrow and Ball paint.