'One thing leads to another between Liz and Lloyd,' says Corrie's Craig Charles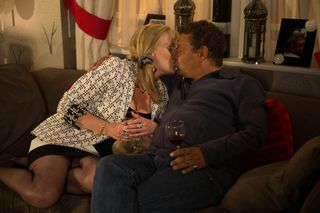 (Image credit: Joseph Scanlon)
Lloyd misses Andrea, so Liz sets him up with Erica. How, then, does Lloyd end up in Liz's bed - again? And what about Andrea? Coronation Street's Craig Charles reveals all to Soaplife...
Is this Lloyd and Liz round two?
"What happens is Lloyd's date with Erica [Claire King] is ruined by Andrea so Liz tries to cheer him up… They have a few drinks and are talking about how rubbish they both are at relationships when Liz [Beverley Callard] gives Lloyd a hug. One thing leads to another and... They get on really well and, of course, have history, but this is probably not the best thing for either of them at the moment."
Does Lloyd regret it afterwards?
"Definitely! He's got himself into a mess and he's very wary of upsetting both Liz and Steve [Simon Gregson]."
And Steve and Michelle (Kym Marsh) see Lloyd and Liz together the next morning…
"Steve's horrified, too, but loved-up Liz insists they have a future together. This is news to Lloyd, but he feels he has to go along with it."
Why?
"Steve is the person Lloyd is most worried about upsetting – they've only just got their friendship back on track and now he's risking it again. But pretending like this is only going to make it worse in the end."
How does Lloyd feel when Steve insists that Lloyd invite Liz out to dinner?
"It's the last thing he wants and he confides in Dev [Jimmi Harkishin]. But Lloyd's a bit of a coward and goes along with it."
Then Andrea appears and begs Lloyd to take her back!
"And Lloyd wants to… He has totally forgiven her for selling his record, but is now in an impossible situation. He's going to have to tell Andrea about Liz and that's not going to go down well - even though they were 'on a break'."
How does Andrea react?
"She's stunned, obviously, but it's in his hands now. It's how he acts from now on that will decide what happens with him and Andrea…"
So what does Lloyd do?
"He tells Liz that Andrea knows, but then he goes out on another date with Liz - he's still worried about upsetting Liz and Steve. This seems to concern him more than Andrea's feelings at this point!"
You and Hayley (Tamaddon, who plays Andrea) are leaving Corrie. Do you go together?
"We have filmed a lot of our final scenes and you'll find out exactly what happens when we finally leave during the live episode week [in September]."
Coronation Street, ITV.
Get the latest updates, reviews and unmissable series to watch and more!
Thank you for signing up to Whattowatch. You will receive a verification email shortly.
There was a problem. Please refresh the page and try again.