'Phelan is a dangerous narcissist, but we'd have a drink!' says Corrie star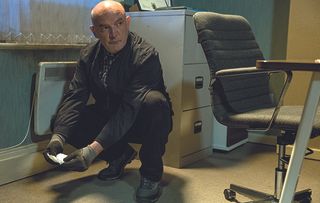 Coronation Street star Connor McIntyre would have a drink with Phelan!
Coronation Street star Connor McIntyre has talked to TV Times about playing Phelan, the show's darkest villain yet...
What's the story?
If you think you've seen Corrie's Pat Phelan at his worst, think again. Having promised to give kidnap victim Andy Carver his freedom, next week he sets about finding a replacement hostage – the theory being that if Andy commits a crime, they'll effectively cancel one another out, and Andy can't report Phelan to the police.
What's happening in Coronation Street? See the latest storylines
Actor Connor McIntyre opens up about what drives Phelan
TV Times: Phelan needs a second hostage and there are a raft of people he could choose from. Is even his own daughter, Nicola, a possibility?
Connor McIntyre: "I promise you, there'll all in danger! The thing that can be guaranteed about Pat Phelan is anyone that represents a real threat to him, there is a firing line."
TVT: Will we see Phelan start to lose control?
Connor: "Yes, and his answer to feeling like he's losing control is that he takes control. He thinks very clearly – 'okay I do x, I do y, I do z.'"
TVT: Does he sense that perhaps it's game over?
Connor: "Never in a million years!"
TVT: What is this all for? What is Phelan's ultimate goal?
Connor: "Lots of people have different views on him, but he's a dangerous narcissist with psychopathic tendencies and the most important thing in the world to him is Pat Phelan. There's a beautiful quote by Nathaniel Hawthorne, who wrote the Scarlet Letter, which says: 'No man, for any considerable period, can wear one face to himself and another to the multitude without finally getting bewildered as to which may be the true.' I think that is where we are with Pat Phelan, which is what makes him such a delight to play. There's no moustache twiddling, there's no winking the eye; his moments are real moments for him. He wants the world the way he wants it, and that's true with an awful lot of people, isn't it?"
TVT: Have you thought about what has made Phelan the man he is?
Connor: "The scenes we filmed in Liverpool fleshed out a little bit of the family situation with his father. It's clear that he didn't have the easiest childhood. However, lots of people don't have an easy childhood and go on to make good contributions to the world. Pat's just making a contribution of another kind! Donald Trump probably believes that he is the most popular president in the United States. I'm not making political points, I don't know that much, but it's safe to say he probably isn't and will probably be remembered as not being. But I don't think his belief can be shaken. Phelan has that mind set; that narcissistic disorder. It's insatiable, and he thinks all his problems can be solved."
TVT:How do you get in the right mindset to play him?
Connor: "I prepare over the weekend because it's really full on. The scenes in the cellar, we filmed in there seven days consecutively. Huge credit to Olly (Farnworth who plays Andy). You've got somebody like me with the headlamps full on, as I like to say, being as vile as I can be, and he has to absorb all that energy. I said to him: 'I hope your girlfriend doesn't shout at you because you're likely to start crying.' At the end of that, I woke up one morning in a rage about nothing. I was thinking 'What's all this about?' But it's because you've been generating that level of adrenaline."
Ruthless: Phelan holds Andy Carver prisoner
TVT: How do you unwind?
Connor: "Generally, the walk home does it for me. I get my hat and coat on, and once I've got my other uniform on it's great, I put Pat to bed for the evening. And I'm a painter too; I'm working on some exhibitions that are coming up at the Alomo Project in Plymouth, and that really takes me away. Painting is meditative. I call it Play Station time."
TVT: What kind of reaction do you get from fans? Are they terrified when they hear your voice?
Connor: "It's interesting that you point out the voice because I look very different when I'm out of work with my hat and glasses on, but often I can be in a queue and the moment I speak, that's when three or four people turn around and go "it's him!" The only time it gets quite disturbing for me is when you see an older person, who's a bit like me and their memory's not great any more. They register that it's a memory and they can't quite locate it, but they know it's not a pleasant one. It's just for those few seconds. Obviously, I'm on that as quickly as I can be, and say 'It's okay it's only me, I'm just the guy who plays that horrible fella!'"
TVT: Do you think that given the crimes Phelan has now committed, it is impossible for him to stay on the cobbles, long-term?
Connor: "We haven't even got started! The truth is, I don't know what his inevitable end is, but surely the soap gods will take control of the situation and they'll retribute. But Pat Phelan would believe he could negotiate with the soap gods! I think that's the level of his narcissim."
TVT: Are there any aspects of Phelan that you see in yourself?
Connor: "Yes, I think at some point the character and the actor come closer together. The actor Denholm Elliott said the way he judged a script would be to decide whether he would have a drink with the character. Would I have a drink with Pat Phelan? I think the answer would be 'yes.'"
TVT: What would you say to him?
"'Listen man, you're not dead yet, you could turn it all around. Put your hands up. It's okay. We all make mistakes.' I'm not sure how well that would go down with him, though – he'd probably find a cellar for me!"
Alison Slade has over 20 years of experience as a TV journalist and has spent the vast majority of that time as Soap Editor of TV Times magazine.
She is passionate about the ability of soaps to change the world by presenting important, issue-based stories about real people in a relatable way.
There are few soap actors that she hasn't interviewed over the years, and her expertise in the genre means she has been called upon as a judge numerous times for The British Soap Awards and the BAFTA TV Awards.
When she is not writing about soaps, watching soaps, or interviewing people who are in soaps, she loves going to the theatre, taking a long walk or pottering about at home, obsessing over Farrow and Ball paint.
Get the latest updates, reviews and unmissable series to watch and more!
Thank you for signing up to Whattowatch. You will receive a verification email shortly.
There was a problem. Please refresh the page and try again.