Rhea Bailey joins Coronation Street as Caz, Kate Connor's 'super, super keen' girlfriend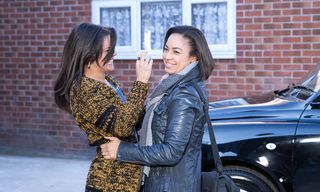 (Image credit: Joseph Scanlon)
Soaplife talks to Rhea Bailey (opens in new tab) about her debut in Coronation Street as Caz, the soldier girlfriend of Kate Connor, who arrives on the Street next week..
What's Caz like then?
"I really like her! She's an infantry woman in the army and I think she hasn't had as easy a ride as Kate has about her sexuality. Her family haven't been as accepting of who she is so Caz is chuffed that the Connors have welcomed her into their family. I think Caz has a little bit of a low opinion of herself, she doesn't think she's that pretty, she's quite insecure and I'm hoping people will find her quite sweet. She's not overly confident in herself, but she is a confident soldier."
How did she meet Kate?
"I've pieced stuff together by reading between the lines. They met abroad and I think they were madly in love after about three weeks! Caz is definitely the one pushing for the wedding and trying to lock them down as a couple. Caz thinks Kate [Faye Brooks (opens in new tab)] can do better than her so I think that's why she's so keen. Caz is surprised by how equal Kate seems to think they are. As far as she's concerned, Kate is the most beautiful woman in the world!"
Is their relationship a balanced one?
"Viewers will see how keen Caz is - she's super, super keen! She doesn't want anyone else to have Kate, she never wants to let her go. I think viewers will see that Kate is feeling a little apprehensive about the wedding. She doesn't really see what the rush is. I think their relationship is strained at times because Caz is away for long periods and then comes back, so it's short bursts of intensity. Being away from Kate a lot also feeds Caz's insecurities and we might see that affecting them."
Why does Caz suddenly appear in Weatherfiled?
"It's a surprise that Caz and Aidan [Shayne Ward (opens in new tab)] decide on together. They've been on the phone and emailing each other to try and work out how to get Caz some time off and then to Weatherfield to surprise Kate for her birthday. Kate doesn't like surprises, but she's very happy that Caz has come to see her."
What about their upcoming wedding?
"When Caz comes to visit, they decide they'll get married next April. It's Caz who really pushes for them to fix a date - she wants something to aim towards. And she wants to make sure this wedding happens before anything goes wrong or before any obstacles can appear!"
What does Caz think of Kate's new home and job?
"It was a bit hard for Caz when she only knew of Kate's new home through Kate telling her all about it on the phone. She's happier once she's seen it. She's met Carla [Alison King (opens in new tab)] and Michelle [Kym Marsh (opens in new tab)], too, who have been really welcoming and I think she's glad Kate has that female family around her now. Caz is trying to show an interest in Kate's new job. Kate is a bit of a princess, though…"
Who have you made friends with in the cast?
"Everyone! I love Kate Ford (opens in new tab) [who plays Tracy Barlow], I'm drawn to her and I think she's wonderful. We chat about all sorts. Faye and I have got a little bond as well, I call her Fi-Fi, my fake fiancee! The Connors in general have been so welcoming - to both me and Caz! It was a bit intimidating when we were doing the Christmas scenes as everybody was involved and I did feel like the new girl! But everyone made a point of checking I was OK and talking to me. It was great."
Coronation Street (opens in new tab), ITV.
Get the latest updates, reviews and unmissable series to watch and more!
Thank you for signing up to Whattowatch. You will receive a verification email shortly.
There was a problem. Please refresh the page and try again.