Corrie's Sam Robertson and Rob Mallard: 'We're the next generation of the Barlow-Baldwin rivalry!' (VIDEO)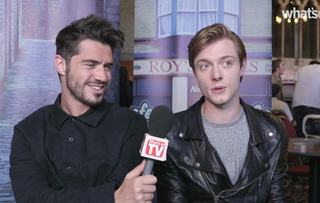 Actors Rob Mallard (Daniel Osbourne) and Sam Robertson (Adam Barlow) hope their rivalry on Corrie will approach the drama of their fathers' legendary feud on the Street
The actors who are playing Ken Barlow's son and grandson (by Mike Baldwin) are looking forward to renewing the classic Corrie rivalry between their fathers.
Sam Robertson plays Adam Barlow, who's dad is Mike and granddad is Ken, while Rob Mallard will appear as Daniel Osbourne, Ken's son by Denise Osbourne.
Will there be a clash? "Almost certainly, yes," said Sam. "I think the dynamic between Bill (Roache) and Johnny (Briggs), who played Mike and Ken, lasted for about 30-40 years until Mike Baldwin died in Ken Barlow's arms... I think that was quite a fitting end to that rivalry and I think the Street's been missing it."
Rob said: "I think it's the next generation, in terms of that rivalry because those families are so tightly wound in with each other... Mike was with Susan, your mum, he was also with Deirdre for a period, so there's lots going between those two families and I think there's no way that would not come out, because initially it was Mike's personality and Ken's personality that pushed them into that feud, and that's what we're hopefully coming in with."
Sam added: "Hopefully we'll be bringing some of that history to our characters and playing on that history."
The return of Peter Barlow rocked the cobbles when a massive row between him and his dad ended in Ken suffering a stroke, so when Daniel and Adam arrive, the drama looks like it will escalate – fast.
Viewers will see Adam first on Wednesday, November 16 when he rolls onto the cobbles in a red jag, wearing a camel coat and puffing on a cigar, while Daniel is discovered by a shocked Barlow clan the same night, sitting at Ken's hospital bedside.
The coming weeks and months will see tempers flare and tensions rise at number 1 as Tracy, Peter, Daniel and Adam jostle for position in the Barlow household.
Corrie producer Kate Oates said: "The Barlows have been at the centre of Coronation Street since it started in 1960 and I felt it was time to remind ourselves of the dynasty that Ken has built up over the past 50 years.
"I am excited about the dynamics of having the different generations living together on the same street and exploring the drama that will bring.
"When Peter turned up first in October his arrival immediately had consequences for the family when Ken suffered his stroke. He is followed this week by Adam and Daniel. I am delighted to have Sam back, his time away from Weatherfield has hardened Adam and although he is a Barlow the Baldwin genes are evident from the moment he arrives.
"Daniel is a different Barlow altogether, more sensitive and bookish, he is clearly a chip off the old block, but there is more to Ken's youngest son than meets the eye. Rob is a talented young actor who is perfect for the role."
Watch the interview with Sam Robertson and Rob Mallard, above.
Get the latest updates, reviews and unmissable series to watch and more!
Thank you for signing up to Whattowatch. You will receive a verification email shortly.
There was a problem. Please refresh the page and try again.