There's a pregnant pause when Sarah unloads the truth to Todd in Coronation Street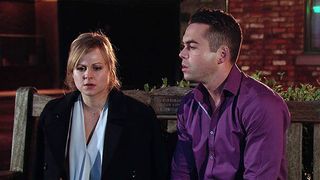 Poor Sarah Platt (Tina O'Brien) is in turmoil in Coronation Street (opens in new tab) next week as she struggles to come to terms with the shock news that she's pregnant, and that her evil ex, Callum, is the father.
To make matters worse, she knows there is no chance Callum will be around to help out – as he's buried under the floor of Gail's new annexe in the family home!
Already struggling to cope with hiding her killer secret about Callum's death (he was whacked over the head by Sarah's sister-in-law, Kylie), Sarah is at breaking point. And with the revelation of her pregnancy, which came immediately after she was run over by Tim, the troubled single mum is in desperate need of a shoulder to cry on. Can she add yet another secret to her already heavy load?
After returning from hospital, Sarah is keen to get back to normality and returns to work at the Rovers. But, when she suffers a twinge in her tummy, Todd is quick to see her discomfort and his mind starts going into overdrive…
…When they were teenagers, Sarah and Todd had a baby boy, who died prematurely, so Todd knows Sarah well. Will he put two and two together and realise what she's hiding?
With the burden of Callum's murder already weighing heavily on her mind, will Sarah finally crack and confide in her former childhood sweetheart?
Todd catches up with Sarah outside the Rovers and asks who the daddy is. Sarah is horrified when she realises Todd has guessed the truth, but the former lovers have a heart to heart and she confesses who the father is. Will Todd be able to offer Sarah any advice?
Later in the week, Kylie becomes suspicious of Sarah, who is clearly in turmoil. Worried that Sarah is on the verge of revealing the truth about Callum's murder, Kylie rifles through Sarah's handbag in an attempt to find clues about her sister-in-law's state of mind…
…And when Kylie finds the name of an abortion clinic, will Sarah tell her the truth? And can she persuade Kylie to keep her pregnancy secret from David?
Find out on Coronation Street on ITV from Monday, November 7.
Thank you for signing up to Whattowatch. You will receive a verification email shortly.
There was a problem. Please refresh the page and try again.