Tracy learns Robert's shocking secret in Corrie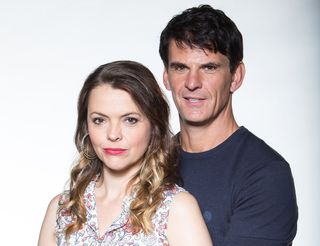 (Image credit: Joseph Scanlon)
Tracy Barlow's first husband Robert Preston (Tristan Gemmill) has just strolled back into her life in Coronation Street (opens in new tab) (if we can be flippant about turning up to pay his respects at her mum Deirdre's funeral). Their marriage ended in acrimony in 2002 after she had an affair and, despite Deirdre's pleas, Tracy refused to return to him.
But somehow we think THIS version of Robert may entice Tracy to his side. Robert, though, harbours a secret. What could it be, we wonder...?
Tracy's love life is on the way up next week, so why does she end up in tears with Ken?
Earlier, by way of an apology for his disturbance at the funeral, Robert rustles up Deirdre's stuffed marrow recipe for a delighted Ken and Tracy…
Meanwhile, a woman called Joni visits the Street and asks Norris where she can find Robert… Hang on, don't we know that face from somewhere (opens in new tab)!
Since seeing ex-husband Robert at Deirdre's funeral a stunned Tracy has fallen for him all over again…
After spending the night with Robert, Tracy gets a text from him cancelling their date the next evening because he has to work late, so Beth suggests they surprise him at his restaurant…
Robert feigns delight when Tracy and Beth show up, but everyone is shocked when Joni enters the restaurant and announces she's Robert's wife!
Joni accuses a stunned Tracy of ruining her marriage as Robert was always obsessed with her…
Tracy arrives home in floods of tears and explains her heartbreak to Ken…
Find out what happens in Coronation Street on ITV from Monday, July 20


Get the latest updates, reviews and unmissable series to watch and more!
Thank you for signing up to Whattowatch. You will receive a verification email shortly.
There was a problem. Please refresh the page and try again.