'Turning 40 is spurring me to get fit and reach my goals!' says Corrie's Kym Marsh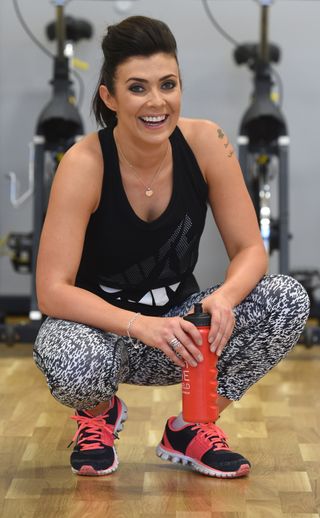 (Image credit: PA WIRE)
Coronation Street star Kym Marsh (opens in new tab) reveals her big plans for her big year to Soaplife… And talks about her new fitness programme.
How's 2016 panning out for you so far?
"Good. I'm still loving Corrie and am definitely there until June, and hopefully beyond that. There are quite a few other things I want to do, too – like trekking to the Everest base camp. It's also a big year for our family as my son is 21 in April and I'm 40 in June. We're planning a joint party."
How do you feel about turning 40?
"It's the thought of being 40 that's spurred me on to get fit and reach my goals. I want to be able to look in the mirror and think, 'You know what? You're not bad for an old bird!'"
Is that what inspired your Power Sculpt fitness programme (opens in new tab)?
"I was very clear from the start that I wanted anyone to be able to follow the plan. I wanted to make it accessible to everyone. The programme has two phases – beginner and intermediate – and each phase has an easier option. You can pick and choose, and do as little or as much as you like. It doesn't say you've got to do a certain number, you simply try your best. Do a couple of 20-minute work-outs three or four times a week, and you'll really start seeing a difference."
Even if you eat whatever you like?
[Laughs] "If you want to get fit and lose some weight, I'm afraid you can't just eat what you like. You've got to adopt a healthy diet."
What's your diet like?
"Pretty good most of the time. I follow a mainly Paleo diet – high protein, low carb – although I do eat good carbohydrates, such as leafy green veg and sweet potatoes. I eat a lot of eggs, vegetables, fish and lean meat. I don't have much dairy and substitute coconut or almond milk for cow's milk. I have a cheat day once a week, though. I think you've got to do that or you get bored and start feeling deprived."
And what are your 'cheat' foods?
"Whatever takes my fancy. It might be pizza, might be chocolate... I indulge myself, but don't go mad. It's never a good idea to eat your body weight in chocolate!"
Coronation Street (opens in new tab), ITV
Get the latest updates, reviews and unmissable series to watch and more!
Thank you for signing up to Whattowatch. You will receive a verification email shortly.
There was a problem. Please refresh the page and try again.