Double-wedding disaster for unlucky brides Eva and Jenny?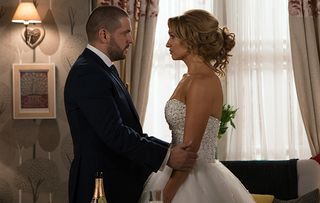 Eva Price prepares to take revenge on love-cheat Aidan Connor, as Jenny Bradley has second thoughts about marrying Johnny Connor
Could it be double-wedding disaster? Ever since she discovered her fiancé Aidan Connor has been having a fling with Maria, Eva has been plotting to ensure her wedding day would be a day to remember – but not for the right reasons.
Meanwhile, Johnny and Jenny face the prospect of getting hitched without ailing Rita present. Will they go through with it? One thing's for sure: if anything is going to cause more drama and disaster than a wedding in Weatherfield, it's two weddings in Weatherfield!
As Eva prepares to wreck her own wedding, she's left speechless when Aidan seeks her out to admit his affair with Maria!
As Eva prepares to wreck her own wedding, she's left speechless when Aidan seeks her out to admit his affair with Maria!
Having arrived at the wedding venue, Toyah is horrified to see Maria has turned up
Toyah lures Maria into the bathroom and locks the door
Trapped inside, is it the end for Maria's hopes of ruining Eva and Aidan's day?
Following his confession, Aidan waits anxiously to see whether Eva will show up
Despite everything, the bride does decide to go through with the wedding…
…but she's unaware Maria is at the venue
Finally, the ceremony itself gets under way…
…only for Maria to suddenly interrupt proceedings having escaped from her bathroom!
Little does she know, though, that Aidan has already come clean to his bride about his affair!
Has Maria got another card to play?
It certainly looks like Eva is giving her love rival a piece of her mind!
Will Maria disappear quietly with her tail between her legs, or is there more drama to come?
Meanwhile, Jenny and Johnny have been delayed at the hospital where they were awaiting Rita's test results
They've left it so late that they're forced to race to the wedding venue on the back of motorbikes
Will Jenny go through with marrying Johnny without Rita there?
Elsewhere, Michelle reveals to Will that she and Robert haven't really split up
She reveals they were only pretending to be apart in order to try to expose their stalker
Will suggests to Michelle that she move in with him so he can protect her. Then, he moves in for a kiss! How will Michelle respond?
Later, in Will's living room, Michelle finds a folder full of pictures of herself and realises he is the stalker! Is she in grave danger? Watch a dramatic week on Corrie from Monday 18 September
Get the latest updates, reviews and unmissable series to watch and more!
Thank you for signing up to Whattowatch. You will receive a verification email shortly.
There was a problem. Please refresh the page and try again.