Nick gets obliterated instead of attending Oliver's naming ceremony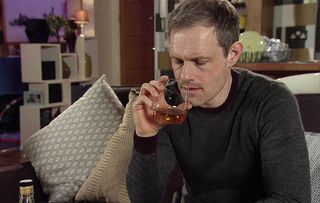 Jealous of Leanne's relationships with Peter and Steve in Corrie, Nick seeks relief from the bottom of a whiskey glass...
Ever since Oliver was born in Corrie, it's been hard for Nick knowing that he's not his real dad and that Steve McDonald is.
He reached boiling point recently when he blamed Steve for Oliver getting seriously ill. Added to that the fact that Leanne seems to have an unbreakable bond with her ex, Peter Barlow, and it's a love quadrangle that Nick does not want to be a part of!
Feeling helpless and unloved, Nick drowns his sorrows
Feeling helpless and unloved, Nick drowns his sorrows
Earlier, after deciding that Oliver should have a naming ceremony, Nick half-heartedly invites Steve
Is this Nick's way of showing Steve that he's in charge when it comes to Oliver?
Sensing he's not really welcome, Steve declines the invitation
Meanwhile, Leanne and Toyah visit Chloe and try to get her to drop the assault charges against Peter. What would Nick say if he knew Leanne was doing all this for her ex?
It's the day of Oliver's naming ceremony, but when Nick finds out what Leanne has done, he knows where her true loyalties lie, and he finds solace in a glass instead of toasting Oliver
David urges him to stop wallowing in self-pity and be grateful for what he's got. Will Nick listen?
Liz is furious to discover she wasn't invited to her grandson's ceremony and drags a reluctant Steve along
Will the Tilsleys and McDonalds ever put on a united front for the sake of Oliver? Watch Corrie on ITV from Monday, May 15
Get the latest updates, reviews and unmissable series to watch and more!
Thank you for signing up to Whattowatch. You will receive a verification email shortly.
There was a problem. Please refresh the page and try again.