Why is Rana feeling jealous of the new girl in Coronation Street?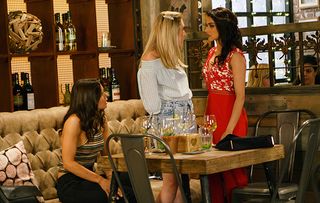 Buddies Kate and Rana go out for a girls' night, but as the evening unfolds, it all gets a little bit uncomfortable for Rana who feels she's being a gooseberry to newcomer Imogen.
Out on the town, Kate Connor attracts the attention of a girl called Imogen, played by Melissa Johns who is a campaigner for actors, like herself, with disabilities. Rana is not impressed that Imogen has Kate's undivided attention and gets annoyed with her distracted friend and decides to leave them to it.
The following day Rana finds out Kate's slept with her new best friend! Is she jealous? What exactly is going on with the married nurse?
At the British Soap Awards in May, actress Faye Brookes, who plays Kate, hinted that there would be a new love interest for her character – will this Corrie storyline evolve or fizzle out? Is Imogen just a smoke-screen for the real love of Kate's life – Rana?
Rana and Kate go out for a drink, but are interrupted by newcomer Imogen.
Rana and Kate go out for a drink, but are interrupted by newcomer Imogen.
Earlier, Imogen introduces herself and takes control of the conversation.
Rana feels put out and gets up to leave...
Imogen's defensive and Rana, feeling annoyed by her flirting with Kate, leaves.
At Roy's Rolls the next day, Imogen and Kate act all loved up in front of Alya, Luke and Rana.
It's obvious to Rana that Kate and Imogen spent the night together.
Rana is none to pleased – but why is she feeling so put out? Watch Coronation Street on ITV from Monday, September 4
Get the latest updates, reviews and unmissable series to watch and more!
Thank you for signing up to Whattowatch. You will receive a verification email shortly.
There was a problem. Please refresh the page and try again.