Robert Preston gambles all in Coronation Street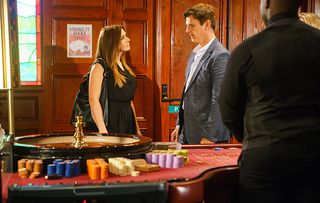 Michelle Connor is horrified when her boyfriend Robert Preston heads to the casino in a bid to win cash to pay Chesney
Ever since Chesney was stabbed in the Bistro in Coronation Street, life has become a living hell for Robert Preston and his girlfriend Michelle Connor.
The couple have received chilling threats which culminated in the firebombing of the eaterie by a masked vandal. Violent drug dealer Rich has a cast-iron alibi – so does Robert have another arch enemy intent on destroying him? Meanwhile, the besieged bistro owner also has to find cash to pay compensation to Chesney. With the chips down, he decides to risk all at the casino, much to Michelle's dismay. Will Robert's desperate gamble pay off?
Is his recklessness set to cost him both his business and his girlfriend?
Robert is hoping Lady Luck is on his side, but as he starts to gamble, it doesn't look that way!
Finding Robert on a losing streak, Michelle can't hide her disappointment. As she storms off, Robert places one last bet…
Meanwhile, when Robert discovers Michelle's car has been vandalised, he turns to Luke for help…
He's keen to get the car fixed before Michelle realises she's the victim of another sinister act of vandalism
Later, having given Will and Maria a lift into town, Michelle drops into a bar for a drink – and realises she's being watched! Is she in danger? Watch all the drama on Coronation Street from Monday, July 31
Get the latest updates, reviews and unmissable series to watch and more!
Thank you for signing up to Whattowatch. You will receive a verification email shortly.
There was a problem. Please refresh the page and try again.