Is Shona the key to exposing the sex ring?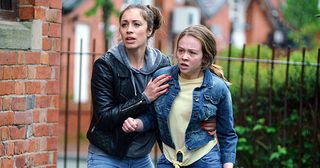 This week in Corrie, Shona turns up unexpectedly and Craig learns the truth about Neil from Bethany – can they form a three-prong attack against the pervy cop?
Craig Tinker learns the truth about Neil's vile behaviour in Coronation Street next week, but he's conflicted when Bethany begs him to keep silent. Meanwhile, Sarah is on the hunt for more of Nathan's victims and she believes Shona holds the key...
Kevin's tempted to cheat on Anna when Erica says she's booked them a hotel room. She waits for him to join her while she sips Champagne. Will he show? Later, Anna's suspicions are aroused...
The Platts mark Kylie's death with an anniversary picnic in the garden, but there's an upset when David spots Shona going into No.11.
Hoping to find some of Nathan's other victims, Sarah calls at the drop-in centre where Yasmeen and Rana are volunteering. As she makes to leave, they're distracted by two girls arguing. It's Shona Ramsey, no less!
Shona is having a spat with a girl outside the drop-in centre.
Shona is having a spat with a girl outside the drop-in centre.
... who hits out at Shona and runs off.
Sarah's desperate to talk to Shona. Can she help her?
Meanwhile, Erica tempts Kevin with a secret tryst and hands him the address of the hotel.
In the garage, Kevin spills out his relationship woes to Rosie...
Rosie's shocked when Kevin pours his heart out.
Later, Neil is at the house at Sarah's invitaton. The pervy cop has kindly agreed to have a chat with Bethany, who does her best to mask her fear.
Craig calls in on Bethany, who eventually breaks down and tells him everything about Nathan and Neil and the sex parties...
Craig quits his job then asks Neil some awkward questions about Bethany.
Toyah and Peter watch as Liz finally signs over her half of the pub.
At the new job, Liz is left in charge of reception when boss Moira pops out. Will she cope?
Mary asks Norris about a mystery letter addressed to Mr and Mrs Cole. Does he know what it's about?
Gary's mate Joe tells him he's running his own private security firm in the Ukraine, the money is fantastic and he should consider coming to work for him.
The Platts mark the anniversary of Kylie's death with a picnic in the garden.
The dog escapes, but David manages to catch him.
David's horrified to see Billy taking Shona into No.11. David has a go at Billy ordering him to keep her well away from him.
When Aidan reveals he's buying the flat above the kebab shop, Eva goes ballistic, pointing out she wanted a house with a garden in Didsbury. Watch all the drama on Corrie on ITV from Monday, July 10
Get the latest updates, reviews and unmissable series to watch and more!
Thank you for signing up to Whattowatch. You will receive a verification email shortly.
There was a problem. Please refresh the page and try again.