My parents are 'losers' jokes Ice finalist Chloe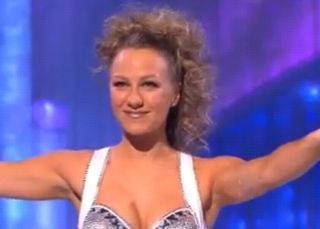 Dancing on Ice finalist Chloe Madeley has jokingly branded her parents Richard and Judy 'losers' for turning up to shows with home-made banners. However the TV presenter and model also said she hoped she would always be described as 'Richard and Judy's daughter'. "I don't think I'll ever step out of my parents' shadow and I don't know that I'd ever want to," Chloe told the News Of The World. "They are incredibly talented, successful, intelligent down-to-earth people and I am genuinely proud to be their daughter. "I think they'll always be a part of who I am so why would I not want people to know that about me. I'm just happy that Dancing On Ice has given me another string to my bow." She added that she had previously feared her wild child antics - which included crashing a car while drunk - could have spelled the end of her TV career. "I was worried at the time that negative things appear that this is might affect my life and career and for a period of time it does ," the 23-year-old said. "But it's not the mistakes you make, it's how you handle them. "The drink driving incident was a huge misjudgment and hugely embarrassing for me. I really regret that ever happening. I'm just grateful that I learned from it and that nobody was hurt. "But in terms of other things that I've gotten stick for I don't think it's as big of a deal that people have made it out to be." And despite being the outsider to win Sunday's final, she admitted she was thrilled to have made it this far. "The fact that I've made it from show one to the final, and the fact that I get to now go on tour, which is a huge reward, I'm thrilled and I really don't care what happens" Chloe said. "The support I've had on Twitter and out and about I feel it would be cheeky to ask for more really."
Get the latest updates, reviews and unmissable series to watch and more!
Thank you for signing up to Whattowatch. You will receive a verification email shortly.
There was a problem. Please refresh the page and try again.