6 ways to improve Doctor Who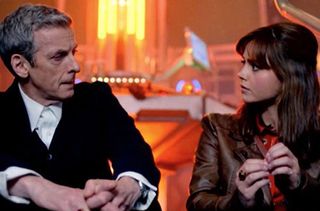 (Image credit: © BBC)
Viewing figures are down and even die-hard Whovians have expressed doubts about where the current series is going – so here, your ever helpful TV Times humbly submits six ways in which Doctor Who might be improved…
1 SPLIT THE SERIES
Big boss Steven Moffat trialled this a couple of years ago with Matt Smith and it worked really well. Not only does it mean that we get Doctor Who twice a year but it also means two dramatic finales. There's no downside really.
2 A MALE COMPANION
We've had Rory and Mickey but they've always been with a female lead. A male companion would change the dynamic and open up different possibilities.
3 A NON-HUMAN COMPANION
We've seen something like this with the Paternoster Gang but nothing permanent over the last ten years – would a new K-9 for a new decade be a totally bad idea?
4 MORE HISTORY, LESS ROBOTS
Pretty much every historical episode from the last couple of years has included a robot. Doctor Who is a sci-fi show but we would just like one historical episode which was purely focussed on the history, and not on the random invasion of robots.
5 SAVE THE DAY – WITHOUT A SONIC SCREWDRIVER…
We love it when the Doctor and his companions perform heroics without an over reliance on his sonic screwdriver. While it's been happening more and more where the Doctor is without his trusty tool, we would, controversially, like to see a complete abandonment of his sonic gadgets.
6 MORE MULTI-PART STORIES
One of the big features of series nine is an abundance of two-parters. However, we'd like to see the return of the three or four-parters last seen in Classic Who, giving writers a huge scope to do something even more extraordinary with each full story.
HELEN DALY
Get the latest updates, reviews and unmissable series to watch and more!
Thank you for signing up to Whattowatch. You will receive a verification email shortly.
There was a problem. Please refresh the page and try again.