Which of these 12 actors will be next Doctor Who?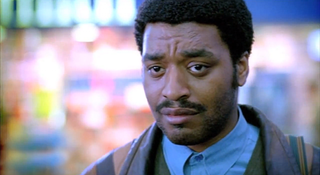 With Matt Smith confirming that he'll be leaving Doctor Who after four years on the show, the most prestigious role on British television is up for grabs. These actors have all been mooted as candidates to be the next Doctor, but which one would you choose? Odds supplied by William Hill.
Ben Daniels 3/1
William Hill have made the Law and Order and Merlin star their favourite to become the next Doctor. Can you see him in the TARDIS?
Chiwetel Ejiofor 7/1
British actor Chiwetel Ejiofor (pictured) has been made one of the favourites and could be the sci-fi fansites' choice to fill the role, not to mention becoming the first black Doctor in the show's history.
Rory Kinnear 12/1
Traditionalists may like to see the 47 year-old become the new Doctor, yet some experts believe that producers are more likely to go with a young Doctor following the success of Matt Smith's stint in the TARDIS.
Ben Whishaw 14/1
The young actor starred alongside Rory Kinnear in Sam Mendes' Bond film Skyfall and won a BAFTA for his portrayal of Richard II in The Hollow Crown. Could he become the 12th Doctor next year?
Damien Molony 10/1
BBC Three supernatural drama Being Human has traditionally served as a great platform for emerging talent and Damien Molony - who played vampire Hal Yorke in the final two series - could be the latest star to hit the big time.
Rupert Grint 10/1
After starring as Ron Weasley in the Harry Potter film series for over a decade, Rupert is keen to break into television. Many consider him a perfect fit for the role, but many experts think that at 24, he is too young to play the Timelord.
Andrew Scott 16/1
Andrew rose to fame after playing Sherlock's nemesis Jim Moriarty in Steven Moffat's BBC drama, but would audiences be able to accept him as the Doctor after seeing him as the evil crime boss?
Russell Tovey 10/1
Having already appeared in a couple of episodes, many Doctor Who fans are suggesting that former Being Human star Russell would be perfect for the role. The bookies think so too, making him joint favourite to get the gig.
Martin Freeman 12/1
The star of Peter Jackson's The Hobbit has already worked with Doctor Who showrunner Steven Moffat on Sherlock and has become a firm favourite with audiences at home and around the world over the last couple of years. Yet producers may feel that he is too high profile to play the Doctor.
Billie Piper 16/1
Despite much discussion on Twitter regarding Fresh Meat's Zawe Ashton, former Doctor Who star Billie Piper is the bookies choice if Matt Smith was to be replaced by a woman..
Jason Statham 100/1
The Hollywood hardman would offer a very different kind of Doctor Who to Matt Smith - could he be bringing a bit of Essex to the TARDIS?
David Beckham 250/1
After hanging up his football boots, the former England captain has plenty of time on his hands. He'd be popular with the ladies, but what would Doctor Who fans make of him as the 12th Doctor?
Get the latest updates, reviews and unmissable series to watch and more!
Thank you for signing up to Whattowatch. You will receive a verification email shortly.
There was a problem. Please refresh the page and try again.