Narcopolis | Film review - Kickstarter-funded British sci-fi thriller is Blade Runner on a budget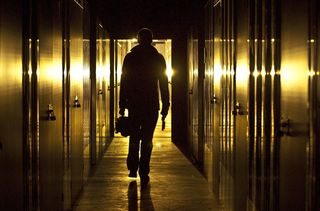 Writer-director Justin Trefgarne strives for noir twists in this ambitious low-budget British sci-fi thriller set in a dystopian future Britain where all drugs are legal.
In a nightmarish 2024 London where half the population are off their heads on legalised recreational drugs sold by a nefarious pharmaceutical corporation, a dogged cop (Elliot Cowan) investigates the mystery of an unidentified corpse and uncovers a far-reaching conspiracy in Narcopolis.
A low-budget Blade Runner, this partly Kickstarter-funded British sci-fi thriller doesn't entirely work. First-time writer-director Justin Trefgarne has come up with an overly convoluted script and his time-travel twist – flagged in the opening scene - will send most viewers for a loop.
He has done an impressive job, all the same, of creating a grimy dystopia on a shoestring. Narcopolis's ambience of seedy dereliction is enough to give anyone post-Brexit shivers. Trefgarne deserves credit, too, for attracting such British acting stalwarts as Jonathan Pryce, Robert Bathurst and Nicky Henson to the project.
The presence of French–Cambodian actress Elodie Yung is another coup. Recently seen as the goddess of love in blockbuster fantasy Gods of Egypt, she proves suitably intriguing here as a mysterious young woman who dogs the steps of Cowan's battered hero and confounds him at almost every turn.
Certificate 15. Runtime 92 mins. Director Justin Trefgarne
Narcopolis makes its debut today on Sky Cinema Premiere and is available on Blu-ray & DVD, courtesy of Altitude Film Distribution.
https://www.youtube.com/watch?v=mU33nMkKygA
Get the latest updates, reviews and unmissable series to watch and more!
Thank you for signing up to Whattowatch. You will receive a verification email shortly.
There was a problem. Please refresh the page and try again.