21 Outrageous Soap Wedding Dresses!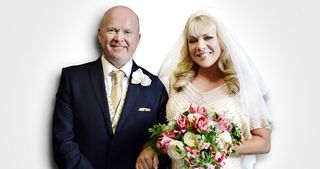 (Image credit: BBC/Kieron McCarron)
In honour of Phil and Sharon's upcoming nuptials, we take a look back at some of soap's most outrageous wedding outfits!
It's Sharon and Phil's big day next week. There's plenty of drama in store, but at least Sharon looks gorgeous (for now…)In celebration of yet another soap wedding, we take a look at other outrageous soap wedding dresses!
Sharon didn't always nail it, though. Look at her Christmas doily-covered boobs. She looks like she's about to burst out of that polyester number at any moment.
Oh, beloved Bet Lynch/Gilroy - committing crimes against fashion since 1966. If we didn't know any better, the ex-Rovers landlady could be hiding the wedding cake in those sleeves...
How many brides do you see wearing a short black dress and a red box jacket, with matching lipstick and flowers? Even in the 80s this wasn't acceptable. But that's what Cindy chose...
Becky had not one but two opportunities to dress up like a Christmas tree (the vicar refused to perform the first marriage because our gal was blind drunk).
Kirsty is the queen of the eye roll and her face says it all really. Why on earth did the costume department put her in this horrible colour? It does absolutely nothing for her complexion,...
This pair wed in November 2013, so we can only imagine that this was a leftover Halloween outfit. Or perhaps she gave it a rinse with Alfie's black socks before the big day?
Do we even need to write anything for this?! This is Emmerdale, Donna and Viv Windsor, NOT Strictly Come Dancing. Those bridesmaids dresses reduce us to tears.
No seriously - those boots - look at them. Viv's boots. LOOK AT THOSE BOOTS. By 'eck!
Bianca and 'Rickaaaaaaay' got married in 1997 and their wedding was watched by 22 millions of us. Yep you got that right, 22 million people wondered why Bianca wore a doily...
Of course, It would have been hypocritical for Deirdre Rachid (nee Hunt, Langton, Barlow) to wear white on her big day when she married beloved Samir in 1994.
Ever wondered what a Christmas present would like in human form? Well wonder no longer as the ever-classy Kat Slater got married to the besotted Alfie Moon in all her understated glory...
Before she went all Hollywood on us (and obviously got a stylist), Margot Robbie played Donna Freedman in the Aussie soap and wore a tie-dye pink dress for her wedding to Ringo Brown...
Seriously, where do we start? You can see how annoyed John Paul is with himself in this picture. Why oh why didn't he wear his hot pink fascinator or leopard print dress
After one too many white wine spritzers on her hen do, jailbird Kylie mistakenly walked into her local fancy dress shop and bought the only thing that fit her...
Dear Emmerdale Costume Department, please give us a job, love from What's on TV. You must have had a field day kitting out Kerry in this Big Fat Gypsy Weddings-style ensemble. And...
There is only one reason we can think of that Belle was attacked by crows on her wedding day in 2009…
We've tried our damn hardest but we just still can't work out why Linda wore a grape printed dress when Mike Baldwin took her up the aisle in 2000. Grapes, why?
Everyone's favourite shy and retiring Scouser wore a plunging scarlet gown on her wedding day earlier this year that left little, if anything, to the imagination.
We hope that white bridal stetsons never darken our door again. Millinery has come a long way since 1994, when Firman's Freezers manager Reg Holdsworth married mad old Maureen.
It's been almost 26 years since Charlene (Kylie Minogue) donned those giant sleeves and married Scott (Jason Donovan). Despite the Ramsays and Robinsons being sworn enemies.
Another soap wedding, another ridiculous hat. Please can we ban any type of bridal hat with a brim? They're hideous. And the less we say about those black-lined lapels the better....
Did Cilla think she was marrying a Spanish Matador instead of Les Battersby in 2005?
Get the latest updates, reviews and unmissable series to watch and more!
Thank you for signing up to Whattowatch. You will receive a verification email shortly.
There was a problem. Please refresh the page and try again.