It's Abi Branning's funeral in EastEnders - but will dad Max attend?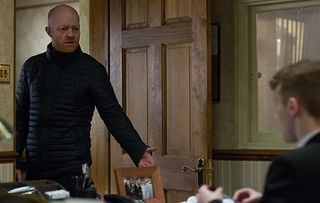 Max Branning is in a terrible state because no one will tell him about his daughter's funeral - but there's a shock in store for the grieving father…
Max is told he's missed the send-off, and is sent into a downward spiral of drink. But it's Lauren who then reveals the dramatic truth: the event hasn't happened yet… and Max is not welcome.
As the week begins, Max Branning wants answers from Jay Mitchell - what's the delay in arranging Abi's funeral? But Jay is evasive...
Max asks Lauren about the funeral, but then she drops a bombshell: it's already happened!
Drunken Max goes into a rage, wanting to know from Jay where his daughter was laid to rest. But Jay won't reveal a thing.
Mick Carter has to step in and take Max's car keys away from him.
Max eventually calms down, but later in the week he finds out the truth: the funeral has yet to happen. His family just don't want him there.
The day of Abi's funeral arrives...
Abi died after a fall from the Queen Vic roof, and her friends and family gather to say their goodbyes.
The mourners prepare for the service: Whitney Carter and Mick…
…Abi's uncle Jack Branning...
…her grandmother Cora Cross…
…and grieving sister Lauren Branning. But wil Max make an appearance? Watch the drama in EastEnders from Monday 12 February...
Get the latest updates, reviews and unmissable series to watch and more!
Thank you for signing up to Whattowatch. You will receive a verification email shortly.
There was a problem. Please refresh the page and try again.