Denise sleeps with Phil in EastEnders!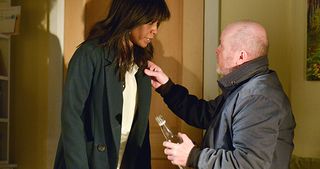 (Image credit: BBC/Kieron McCarron)
The two lost souls find comfort in each other on EastEnders
WK17-EAST-DENISE-FOX-PHIL-MITCHELL01
When they end up drowning their sorrows in The Albert, one thing leads to another!
WK17-EAST-DENISE-FOX-PHIL-MITCHELL02
At the beginning of the week, it's a battle of the sexes in The Vic as Buster's all-male team take on Shirley's women-only side in a darts match…
WK17-EAST-DENISE-FOX-PHIL-MITCHELL03
The Vic's regulars - including Sharon, Sonia and Tina – have a great time at the darts match, but there are shocks in store for both Phil and Denise…
WK17-EAST-DENISE-FOX-PHIL-MITCHELL04
Ben decides to kiss his boyfriend Paul in public for the first time, but he doesn't get the reaction he was hoping for from his dad, Phil, who storms out
WK17-EAST-DENISE-FOX-PHIL-MITCHELL05
After clashing with daughter Libby and Carmel, Denise gets drunk with Phil and the pair spend the night together but, the next day, Phil can't remember it!
WK17-EAST-DENISE-FOX-PHIL-MITCHELL06
After telling Denise that she's pregnant but isn't keeping the baby, Libby has fallen out with her mum, so she turns to Aunty Kim for support
WK17-EAST-DENISE-FOX-PHIL-MITCHELL07
Horrified by her actions the night before, Denise has a change of heart about Libby. But at the clinic, Libby notices her mum's necklace is missing…
WK17-EAST-DENISE-FOX-PHIL-MITCHELL08
Denise hoped the night would remain a secret, but she knows it could all come out if someone finds her necklace at Phil's place. So she heads over with a plan…
WK17-EAST-DENISE-FOX-PHIL-MITCHELL09
Will Denise get back her necklace when she pays Phil's daughter Louise a visit? Watch this story unfold in EastEnders on BBC1 from Monday 25 April
Get the What to Watch Newsletter
The latest updates, reviews and unmissable series to watch and more!