Danny Dyer: 'There's been more backstabbing down Westminster than in Albert Square!'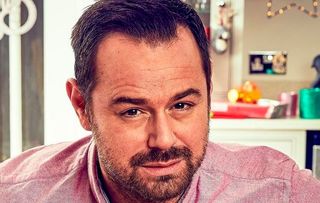 EastEnders star Danny Dyer has a whole lot to say on the current state of the nation. Tune in Christmas Day at 3:50pm on Channel 4 to hear the man speak!
Remember when Danny Dyer appeared on ITV's Good Mornng Britain spin-off, Good Evening Britain back in the summer and sounded off about former Prime Minister David Cameron and Brexit?
This Christmas, the EastEnders star will be getting both personal and political when he delivers this year's Alternative Christmas Message on Channel 4.
Danny is set to reflect on a "pretty full on year" and having his say about the likes of Brexit and Donald Trump and the lack of current political leadership in this country.
"That shambles down in Westminster, what a palava that is," he says. "I mean where are our leaders? Where are they? There's been more backstabbing than we have in Albert Square!"
President of the US of A Donald Trump doesn't get off lightly where Danny is concerned either – he gets both barrels for both not turning up to the Armistice memorial as it was raining and for cancelling his trip to Britain.
"It ain't any better for the Yanks though is it, you know, what an absolute melt they've got there. He don't want to turn up to memorials because it's raining. He don't fancy a little trip to Britain because there's people here that just don't like him. Leave off."
But it's not all doom and gloom as Danny will also raise a glass both to the heroes of 1918 to mark both 100 years since the Armistice of World War I and the victory in the fight for the women's vote.
In the Alternative Christmas Message, Danny also calls for more heroes and role models, and names his mum, Nan – and in later years, British playwright Harold Pinter, as his. He is appearing on stage in two Harold Pinter plays, The Dumb Waiter and A Slight Ache in the West End of London in January.
"That's what I think we need more of, heroes, role models," he says. "If we need anything for 2019, it's for each of us to find who we look up to. Could be your mum, could be your dad, your stepdad, your Nan, teacher, social worker. Maybe even a handsome roguish actor off your favourite soap!"
Danny also gets personal about his family, including his wife Joanne Mas and Love Island winning daughter Dani, who he recently shared the sofa with for a celebrity edition of Channel 4's Googlebox.
https://youtu.be/HE6av98nHag
"I teach my girls they can be who they want to be, and I try and teach my boy to be a good man. Now don't get me wrong, I ain't no saint, you know, I can do better. I think we can all do better.
"Life can get a little stressful and we might get on each other's nerves a bit, but remember how much there is to be proud of, to be grateful of. Merry Christmas, my loves."
The Alternative Christmas Message is on Christmas Day at 3:50pm on Channel 4
Get the latest updates, reviews and unmissable series to watch and more!
Thank you for signing up to Whattowatch. You will receive a verification email shortly.
There was a problem. Please refresh the page and try again.