EastEnders' Christmas birth reveals Stacey's baby joy…and agony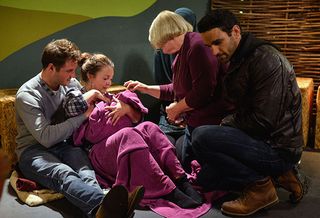 (Image credit: BBC/Kieron McCarron)
The Nativity in Albert Square gets a live birth on Christmas Eve, when Stacey (Lacey Turner) suddenly goes into labour while watching her daughter Lily (Aine Garvey) on stage.
One minute Stacey's in the audience, the next she's the one everyone's watching as it becomes clear she's having her baby right there, right then.
Aunt Babe (Annette Badland) leaps into action and helps deliver the infant boy to a very happy Martin (James Bye), who thinks he's the father.
But we know he's not. We know Kush (Davood Ghadami) is the child's father, the result of a one-night stand while he and Shabam (Rakhee Thakrar) were "on a break".
Which is why being there for the birth of this baby is such a bittersweet moment for Kush… And such agony for Stacey.
Kush can't bear to watch as Martin and Stacey are handed his son
She knows Martin is excited about a son that isn't his and she knows it's killing Kush to keep quiet as his son is handed to him by Aunt Babe, with Shabnam looking on.
It was only three months ago that Shabnam and Kush went through the birth of their dead son, Zaiir.
Now Shabnam has to watch as her best friend gets what she lost - and Kush has to pretend to be happy for Martin.
Martin and Stacey with their Christmas delivery: a baby boy they name Arthur
That alone is painful for Stacey to bear. But what's coming next will be even more shattering…
"Immediately after the birth, viewers will see the beginning of Stacey's experience of postpartum psychosis," reveals EastEnders' boss Dominic Treadwell-Collins.
"As EastEnders viewers are aware, Stacey was diagnosed with bipolar disorder in 2009. Although postpartum psychosis can affect a woman without pre-existing mental health issues, it is more likely to affect a mother who has bipolar disorder," adds Dominic.
"Stacey's mental health story will be one of our biggest storylines over Christmas and the beginning of 2016 as we explore Stacey's bipolar disorder and its effects on her and those closest to her.
"We have always had a big commitment to Stacey's story and this time we want to explore the effects of postpartum psychosis on those with bipolar - something which, although a rare illness, is unfortunately more common when mothers with bipolar give birth.
"EastEnders have worked closely with Mind, Bipolar UK, other experts in the field and women with personal experience to show a story that is true and painful, while also filled with the usual twists and turns viewers have come to expect from EastEnders."
And we expect one of those twists to be the shock of Martin finding out that the baby boy they name Arthur, after Martin's father, isn't his son at all.
EastEnders continues on BBC1, Monday, December 14, 8.00pm.
Get the What to Watch Newsletter
The latest updates, reviews and unmissable series to watch and more!