EastEnders' Lacey Turner: 'Stacey can see a future with Martin. She's desperate he doesn't learn the truth'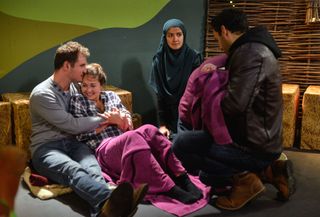 (Image credit: BBC/Kieron McCarron)
Stacey Branning gives birth at the EastEnders Nativity and it's the start of major drama for the young mum, Lacey Turner (opens in new tab) reveals to Soaplife…
Stacey Branning has a baby on the way. Sadly, there's one small problem… the baby she's carrying isn't partner Martin Fowler's. The father is Kush Kazemi, the husband of her best mate, Shabnam.
"Stacey's so desperate for Martin not to find out the truth about the baby," Lacey says. "She knows it will break his heart and, if she had her way, Martin would be the father. Stacey can really see a future with him now, which is not something she'd have said a few months ago!"
Does Martin suspect the truth?
"I don't think he has any suspicions about not being the father or about the fact Kush [Davood Ghadami (opens in new tab)] and Stacey ever slept together. That's what makes it so sad. Stacey loves Martin [James Bye (opens in new tab)] and the thought of having a happy family with him is all she wants. But can she keep the truth from him?"
How is Shabnam and Stacey's relationship at this point?
"Things are pretty good between them at the moment. Stacey did worry when Shabnam [Rakhee Thakrar (opens in new tab)] realised Martin wasn't the baby's father, but she's been supportive of Stacey since then. Shabs realises how much Stacey loves Martin, so why would she want to rip apart what they have? But then they end up having an argument…"
About what?
"Kush tells Stacey and Martin that Shabnam has seen a doctor and Stacey goes to talk to her about it. Instantly, Shabnam snaps, but it's only because she's upset about her situation and she doesn't want to talk about it. It hurts Stacey, though, as Shabs then tells her she wants the four of them to not live in each other's pockets any more."
How does Stacey feel about that?
"It upsets her that Shabnam doesn't want them to be so close any more because she is Stacey's best friend."
What can you tell us about Stacey's birth scene?
"Stacey's waters break, but she's sent home from the hospital as it's too early for her to go in. She should really be putting her feet up, but Stacey doesn't want to miss Lily's big moment in the Nativity, so she goes along to watch. But then things start moving along and that baby is not going to wait!"
How would Shabnam would react if she learned the truth?
"She'd be devastated, angry, betrayed…and she'd have every right to be. But Kush and Stacey never set out to hurt anyone. They didn't have an affair. It was one drunken night when Kush and Shabnam were on a break. What they should have done was told Shabnam then, but hindsight is a wonderful thing. If they knew then what they know now, maybe things would be different. That's what makes this whole situation even more complicated."
EastEnders (opens in new tab), BBC1
Thank you for signing up to Whattowatch. You will receive a verification email shortly.
There was a problem. Please refresh the page and try again.