EastEnders to recreate first-ever scene of the soap for its 30th anniversary celebrations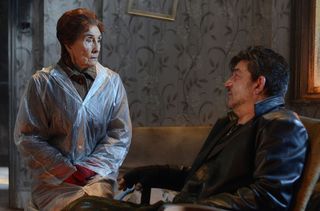 We're just one day away from a week of special programmes to mark 30 years of EastEnders – and it's been revealed that the show's producers plan to recreate the very first scene of the soap.
When it began on 19 February 1985, the first thing viewers saw was Arthur Fowler, Den Watts and Ali Osman kicking down the door of Number 23 Albert Square where they found their neighbour Reg Cox shortly before he died.
As part of a special hour-long anniversary episode on Thursday, EastEnders will recreate the scene with three present-day characters kicking down the door of the same house. For the last few weeks, Nick Cotton has been hiding out in the property which was vacated by the Moons following a fire.
On Friday night, viewers saw the villainous character die in his hideout after his mum Dot bought him some heroin which wasn't pure and she ignored his pleas to call for an ambulance.
The show's producers are even using actual sound effects from the original opening scenes and will reference the very first line uttered by Den Watts: "It stinks in 'ere, don't it?"
http://www.youtube.com/watch?v=4bGM5mPSm70
It's not the only nod to the past that EastEnders will be making this week – keep your eyes peeled for more moments that pay homage to the memorable events of the last 30 years…
Dominic Treadwell-Collins, Executive Producer says: "Live week allows us to have some fun while also paying respect to our past.
"Our Story Producer Alex Lamb had the idea to replicate EastEnders' first ever scene back when we started planning our anniversary - and it has been lovingly modernised for 2015 by Anniversary Producer Sharon Batten, our longest serving EastEnders writer Rob Gittins and Director Karl Neilson.
"With little touches like this throughout the week, we will hopefully make Julia Smith and Tony Holland proud of the show they created back in 1985."
Get the What to Watch Newsletter
The latest updates, reviews and unmissable series to watch and more!