Gillian Taylforth: 'Now I'm getting up at 5, I'm thinking 'Why did I say yes to EastEnders?!''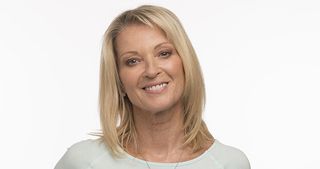 (Image credit: BBC/Des Willie)
She was supposed to be six feet under, for heaven's sake! Den Watts aside, characters don't usually come back from the dead in the grimy world of Walford!
TV Times (opens in new tab) chats to actress Gillian Taylforth (opens in new tab) at EastEnders (opens in new tab)' HQ, about her return to the soap – we still can't get our heads around it. But it has really happened. Kathy has come home – even if the place doesn't yet feel like that to Gillian...
Has much changed on set since you was last here?
"They've got new studios now; I don't know where I'm going half the time! Stage one is more or less the same, with the caff, the Vic and the Beales' house, but they'll say to me 'Are you going to Studio C?' and I'll say 'I am… where is that?' And Perry Fenwick, who plays Billy, is in my old dressing room, so I'm gonna have to get him out!"
Was it a surprise when you got the original call from EastEnders' then executive producer, Kate Harwood, telling you that your character was to die in a car crash in South Africa?
"Definitely, yes. Kate phoned me up and explained the ripples that would happen with Ben coming back to the square. I said 'Do you have to kill her off? I don't like the idea of Kathy dying; she is such a strong character.' But I was like 'OK, fair dos; it will be a good story for Adam and Steve (McFadden)."
Yet another surprise then when Dominic Treadwell-Collins, invited you round to his house in late 2014?
"I thought he was going to ask me to present Adam with a cake at the anniversary! It didn't cross my mind that he'd want me back. When he asked me, I was like 'Wow!' and when he told me the story, I thought about it and went 'Yeah' Now that I'm getting up at five in the morning, I'm thinking 'Why?!'"
Kathy, has had her fair share of trauma – she was raped by Wilmott-Brown in the 1980s, and had failed marriages to Pete Beale and Phil – now she wants to escape her 'control freak' husband Gavin and re-unite with her sons. But will it be that easy?
"She has this idea that she will come back and it will be OK once she explains it all. She has to understand what she put them through and, bit by bit, it really hits her what she has done to Ben and Ian, and what she has missed out on with the grandchildren.
"With Ben, she knows that he killed Heather, but she didn't know he was a father. So she comes back, thinking 'We will get rid of Gavin and live happily ever after.' When they find out that she did what she did for money.... well, it's not a good reaction."
Did you get a warm welcome from the boys off-screen?
"It was a chance for me to meet Harry Reid, who plays Ben and an emotional reunion with Adam Woodyatt that he never thought would happen.
"In the first scenes we had together, Adam just kept looking at me and smiling, and saying 'We've missed you!' He did say, 'How can you come back and look younger than me?' But he's been here for 30 years, that's why! Give me three months and I'll be looking like his grandma!"
It's true, you look younger than your age. You could easily pass for someone in their 40s, not someone who actually turned 60 last month! What did you do to celebrate?
"My agent said that EastEnders wanted me back earlier than planned, I said 'Will you let them know that I'm doing something for my birthday on August 14th?' They were like 'Don't worry!' But then they forgot! So I was working on my birthday until 11pm!"
So what's it like to be back?
"It's nice to come back into it with people I've known for years. The main things at first were with Steve McFadden in the Arches, and then I did some stuff with Tish (Letitia Dean) which was nice.
"Kellie Bright, who plays Linda, played my daughter in a comedy series called The House that Jack Built so it was lovely seeing her again. And the other day, I did a scene with June Brown, who plays Dot. I was so excited! It's brilliant!"
Get the What to Watch Newsletter
The latest updates, reviews and unmissable series to watch and more!