Jo Joyner: 'I'll insist on having a motorbike on the next series of The Interceptor'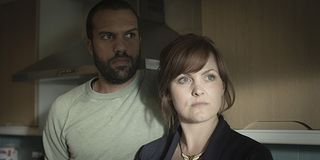 (Image credit: BBC/Des Willie)
Since leaving the turbulent life of EastEnders' Tanya Branning behind, Jo Joyner has twice been cast as a wife who's had a fling with the boss – in the Sky Living sitcom Trying Again and in BBC1 drama Ordinary Lies.
So she was relieved to find herself happily married in the crime drama The Interceptor, which continues on Wednesdays on BBC1 and she tells TV Times all about it.
Jo plays Lorna, wife to the intuitive but unpredictable detective Ash (O-T Fagbenle), whose home life with Lorna and their two daughters is what keeps him grounded when he's not chasing down the capital's biggest criminals.
Does she know how dangerous Ash's job is?
"She's not stupid – she knows his background and that what turns him on is adrenaline and adventure. But she hasn't any idea about how deep he's got into something that's a bit more dramatic – and that's probably good."
So that's what attracts her to him?
"That's probably what's made her fall in love with him, kept her interested and also made her think she can fix him. That's the great irony, as it may well end up separating them."
Does this make her realise he's not being honest?
"The lowest point comes when Ash has been in danger and is physically in a bit of a state. A few things lead her to realise that he's not working for the unit she thought he was in, and that's when they reach breaking point."
Did you get excited about the script?
"I read the opening of the script, where Anna Skellern's character Kim gets off a motorbike and shakes her hair loose, and I thought: 'I'd be great at this!' And then it turns out I'm stuck in the kitchen and never leave the house. So I did miss out on the adventure – but you never know, I could turn out to be a baddie… And if there is a second series, I will insist on having a motorbike."
Did you still enjoy the role?
"This was a lovely job for me to just pop in and play for a bit, and leave the rest of them to do the hard stuff. In any case, in a piece of drama like this, every role is important, and l play a big part in terms of making the lead man an all-round person."
You may have missed out on the stunts, but off camera, you recently had a hair-raising experience of your own behind the wheel...
"This girl was just stood in the middle of the road, and she kicked my car, making a massive dent in it and causing £700 worth of damage. I got out to tell her off, but I didn't realise that her and her friend were probably a lot harder than me. When my husband started shouting: 'Get back in the car!' I thought: 'Oh yeah, I think I will…' But for that moment, the adrenaline kicks in and takes over."
Are you pleased with how the public reacted to Beth in Ordinary Lies?
"I was thrilled at the reaction to it, it's gone down brilliantly and it's up for some awards. But in fact the majority have said: 'It wasn't Beth's fault Dave had a breakdown'... So people are colder than you think!"
Get the What to Watch Newsletter
The latest updates, reviews and unmissable series to watch and more!