TV Times' top 10 stars who have appeared in Corrie AND EastEnders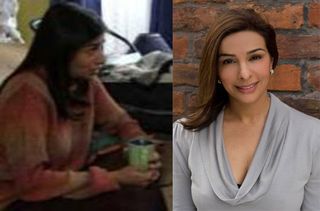 Ex Loose Woman, Celebrity Big Brother champ and former Coronation Street star Denise Welsh joins EastEnders soon, but she won't be the first actor to have crossed the great soap divide.
Here's TV Times' illustrated guide to the ten stars that have appeared in The Big Two – do let us know below in our comments section if we've missed anyone….
1 SHOBNA GULATI
Ameena Badawi in EastEnders (2000)
Sunita Alahan in Corrie (2001 - 2006, 2009 -2013)
It's been reported Shobna was offered the role of Sunita while she was playing Sonia's social worker and chose Weatherfield over Walford.
2 JILL HALFPENNY
Rebecca Hopkins in Corrie (1999 - 2000)
Kate Mitchell in EastEnders (2002 -2005)
The Strictly 2004 winner married EastEnders' Phil Mitchell,then had an affair with DIrty Den and had a fling with married Martin Platt as nurse Rebecca in Coronation Street – she definitely earned her money!
3 JUNE BROWN
Mrs Parsons in Corrie (1970 - 1971)
Dot Branning in EastEnders (1996, 1999 - present)
Brave Mrs Parsons went to war with Ena Sharples over whether or not son Tony Parsons, a talented harmonium player, should pursue a career in music. Dot is one of the best-loved characters in the history of British television.
4 JOHN BARDON


Jim Branning in EastEnders (1996, 1999 - 2011)
Ernie Lumsden in Corrie (1990)
The late great John became a household name as Jim – who's on-screen partnership with Dot was described as Walford's "Stan and Hilda" – and starred in two episodes of Corrie as Ernie, a holidaymaker stuck at Manchester airport with Derek and Mavis.
5 NICHOLAS BAILEY
Anthony Trueman in EastEnders (2000-2005, 2014)
Lee Middleton in Corrie (1996- 1997)
Before he was mild-mannered Dr "Ant-knee", Nick was Fiona Middleton's business-man brother Lee, who was racially abused by dim friends of Fiona's fiancé, Alan.
6 IAN REDDINGTON
Richard Cole in EastEnders (1992 -1994)
Vernon Tomlin in Coronation Street (2005 - 2008)
As fans will well remember, Tricky Dicky was Walford's corrupt and sleazy market inspector, while lazy musician Vernon was another in a long line of inappropriate boyfriends for Liz McDonald.
7 MICHELLE COLLINS
Cindy Beale in EastEnders (1988-1990, 1992-1998)
Stella Price in Coronation Street (2011-2014)
Grabby, unfaithful Cindy, was, of course, the first person to try and do away with husband Ian, hiring a hit man to to do the deed, while Stella landlady of the Rovers left behind daughter Eva when she moved to New York City for a "fresh start".
8 TIMOTHY WEST
Eric Babbage in Coronation Street (2014)
Stan Carter in EastEnders (2014 -2015)
Eric, the rich businessman lover of Gloria Price, died unexpectedly leaving Gloria nothing (in true Corrie style), and poor "tough and lonely" Stan, unreliable father of Shirley and Tina, also had death – from prostate cancer – sprung on him. We can only hope Timothy lands something jolly in Emmerdale next.
9 BRIAN CAPRON
Richard Hillman in Coronation Street (2001 -2003)
Jerry McKenzie in EastEnders (1993 - 1994)
Who could forget Hillman The Kill Man, the FInancial Advisor and serial killer who drowned trying to do in the Platts,, and in EastEnders Brian was the slightly less well known husband of bossy Meena who had an affair with Sanjay, husband of Gita – and Meena's sister!
10 BILL WARD
Mike Palmer in EastEnders (1993)
Charlie Stubbs in Coronation Street (2003 -2007)
Bill was Corrie's bullyboy builder Charlie Stubbs, finally clobbered to death by the always-game Tracey Barlow, but a decade before that he played the bit part of Walford journalist Mike in 1993, but we can't find a picture of that – an official TV Times mug to the first person to track one down!
Have we missed anyone? Do let us know below in our comments section…
Thank you for signing up to Whattowatch. You will receive a verification email shortly.
There was a problem. Please refresh the page and try again.