What's got EastEnders star Charlie Brooks 'scared stiff but excited'? She reveals all here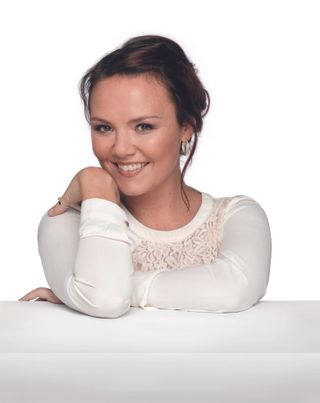 (Image credit: BBC/Dan Goldsmith)
Charlie Brooks tells Soaplife about her latest raunchy role, going on tour - and a possible return to EastEnders…
Nothing much ever bothered EastEnders super-bitch Janine Butcher. But the same can't be said for Charlie Brooks, the actress who plays her. Charlie's no scaredy-cat - she won I'm a Celebrity… Get Me Out of Here! in 2012 - but performing live on stage is, she says, pretty daunting.
"I've just done a play called Contact.com and it was quite terrifying at times because I haven't done that much theatre before. I'm getting used to it, though, and I love it."
And you've got another play to do, haven't you?
"I'm in Beautiful Thing by Jonathan Harvey, who also writes scripts for Coronation Street. It's a play about two young men, Jaimie and Ste, and their blossoming romance in an inner-city housing estate."
What's your role?
"I play Sandra, who's Jamie's mum and the local barmaid. Beautiful Thing was made into a film in 1996 and I was obsessed with it when I was a kid. I must have watched it about 100 times. I saw [ex-Corrie star] Suranne Jones in the play two years ago in the West End and I really wanted to do it. Now I'm going to and it's like a dream come true. We're spending 18 weeks taking it around the country and I'll be on the road til July. It's my first ever tour."
What will happen with your 10-year-old daughter, Kiki, while you're away?
"She'll be fine as my family will be with her and so will her dad. We all discussed it before I decided to take the role. Obviously I'll miss Kiki and she'll miss me, but quite a few of the venues are commutable from where we live in Surrey, so I'll be able to get back at night, and she'll come to see me from time to time. Her school is really supportive of what I'm doing."
You teach her yourself sometimes, don't you?
"She attends the drama class I take on a Saturday morning at a local school – not that I'll be doing it this year, as I'm booked up with work. I love working with kids – firing them up and seeing them come out of themselves. They gain so much confidence through drama and it's very rewarding to nurture that."
You spent some time in LA last year, doing a pilot TV show… Would you like to go back?
"It was amazing and I'd love to return, but it would be for a lifestyle choice rather than purely for work. I wouldn't actively go out there with the intention of breaking America. Those kinds of expectations only lead to disappointment. But it would be great for Kiki and I to have a different life experience."
Do you know people who live out there?
"I have a few friends out there, including [ex-EastEnder] Patsy Palmer. Her kids love it there. It would be a very cool thing for Kiki and I to do and we may well consider it."
Do you think you'll ever return to EastEnders?
"Yeah, eventually maybe I will. I love the people there – it's a great place to work. I just felt I needed to do some other stuff – like theatre."
Are you ambitious?
"I like to feel challenged and to test myself. There's lots I want to do. If that's ambition, then I'm most definitely ambitious."
Get the What to Watch Newsletter
The latest updates, reviews and unmissable series to watch and more!