Willmott Brown brings new terror for Kathy in EastEnders - Gillian Taylforth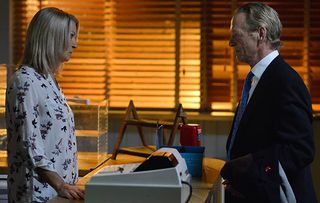 (Image credit: BBC / Kieron McCarron)
EastEnders star Gillian Taylforth tells Soaplife about terrified Kathy's confrontation with her rapist, James Willmott Brown
Shocked EastEnders fans now know James Willmott Brown is man behind Weyland & Co taking over Albert Square. But Kathy Beale is still in the dark…until this week, Gillian Taylforth tells Soaplife
What's the story?
The return of James Willmott Brown was such a coveted secret that the character had a codename in EastEnders' scripts, so the rest of the cast and crew wouldn't know who it was. "I had no idea that he was coming back," Gillian Taylforth told Soaplife. "I came in one day and saw William Boyde, who plays him, sitting there. He said, 'Do you know what's happening?' And I said, 'No'. It was a lovely shock." But we think Kathy's reaction to confronting Willmott Brown, who raped her in 1988, will be less happy…
What's happening in EastEnders? See the latest soap storylines
Gillian Taylforth reveals all to Soaplife about Kathy seeing Willmott Brown...
Soaplife: Can you remember how you felt about the original rape storyline in 1988?
Gillian Taylforth: "I remember doing those scenes and being upset about the whole storyline. It was an ordeal to go through and I got depressed by it. But, obviously, we did it and we got through it. And that was that.
S: Describe the moment when Kathy first sees Willmott Brown again…
GT: "It's in the café. The lights are all off and it's really eerie. Kathy's closing up and carrying a plate. Someone comes through the door and she's got her back to them. She says, 'We're closed.' And he says, 'Hello, Kathy.' She turns round and he says, 'Long time no see.' Then she drops the plate. That's the end of one episode. The next is their confrontation."
S: How does that confrontation play out?
GT: "I did wonder what they were going to do with it because it's a huge moment. But it's a wonderfully written episode. There's one scene that's 15 pages long and it's Kathy talking for about nine of them. But it was great to do. And Will was fantastic."
S: Does Willmott Brown accept what he did yet? Does he show any guilt?
GT: "No. It's really frustrating. Kathy goes through everything again and tells him what he did."
S: What is he hoping to achieve?
GT: "He feels he was hard done by because he got three years in prison for the rape. He claims that he and Kathy were having an affair. He also thinks they were going to go off into the sunset together. That's what he told his family. He's completely deluded about it."
S: Is he more unpredictable because he refuses to accept the truth?
GT: "Oh yes, Kathy says that to him. 'You're deluded. You're out of your head!' So you wonder what he's going to do next when he walks off at the end of the scene. He's capable of anything."
S: How scared is Kathy by all this?
GT: "She's very scared but she stands up to him. In the scene, she grabs a knife and she keeps it behind her…"
S: Why doesn't she tell Ian about it?
GT: "It's something she wants to forget. But a few days later, she hears a noise and she jumps and hides on the floor. Ian finds her and he says, 'Mum, you're shaking!' So she finally reveals what's been going on…"
S: And Ian tells Phil…
GT: "Phil obviously knows about the rape and Ian goes to tell Phil, even though Kathy didn't really want Phil knowing."
S: Does she know what Phil might do?
GT: "I think she's pretty damn sure what Phil might do! He'll do what Phil normally does and she worries about that. And, obviously, Ben's involved with Luke, and she's worried about affecting that, too."
S: Hollywood star Patrick Bergin's joined the cast as Phil's old mate, Aidan… What's it like working with him?
GT: "He's absolutely lovely. He came in the first day and Kath had a little scene with him, tempting him with, 'Would you like a sausage sandwich?' He was very nice and he recited an Irish poem to me!"
EastEnders, BBC1
Get the latest updates, reviews and unmissable series to watch and more!
Thank you for signing up to Whattowatch. You will receive a verification email shortly.
There was a problem. Please refresh the page and try again.