Lauren tells Max: I'm leaving Steven and returning to New Zealand!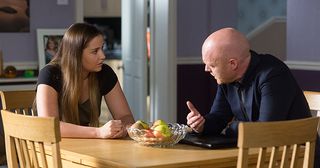 There's more gossip, intrigue and an imminent exit from Walford this week as Bernadette, Lauren and Denise get tongues wagging...
Coming up in EastEnders, Lauren decides she can't be with Steven any more and tells Max she's taking Louie and returning to New Zealand.
Elsewhere, will Bernadette keep schtum about her unborn baby's daddy? Scheming bullies Alexandra and Madison are out to spoil things for Bex at the school performance. Michelle goes on a date with Tom, unaware that Louise has ducked out and left Will and Denny home alone...
Lauren tells Max that she's leaving Steven and wants to go back to New Zealand...
Lauren tells Max that she's leaving Steven and wants to go back to New Zealand...
Abi is irritated by Steven's optimism about his and Lauren's relationship.
Stephen tries to say it with flowers and Lauren tries to talk to him about their relationship. Will she let him down gently?
Meanwhile, Abi and Josh discuss Lauren's plans to leave Walford.
Lauren thanks Jack, Abi and Max for their support. Is this her leaving speech?
After a fiasco which sees Donna evicted from her pitch, Martin and Kush plan revenge on Robbie.
Earlier, Robbie tells an incensed Donna that he's closing her down because she hasn't paid her rent.
Denise and Patrick discuss her new job at the council...
Later, Denise talks to Kim about how they'll tell Carmel she's not joining them on holiday.
Karen tries to get Bernadette to reveal who the baby's father is, but she remains tight-lipped.
Bex and Shakil try to persuade Travis to talk to Louise and ask her for a second chance.
Alexandra tries to wind up Bex at the showcase in front of Travis.
The showcase is about to get underway. Travis tries to get back into Louise's good books. Will it work? Watch EastEnders on BBC1 from Monday, July 10
Get the latest updates, reviews and unmissable series to watch and more!
Thank you for signing up to Whattowatch. You will receive a verification email shortly.
There was a problem. Please refresh the page and try again.