Vincent Hubbard speaks to the police about the heist in EastEnders!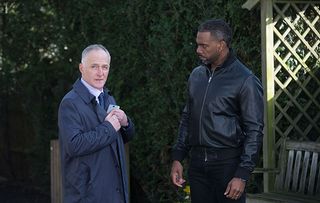 Vincent offers to get DI Franklin information on the heist in exchange for cash.
Desperate for money, Vincent Hubbard meets with DI Franklin to offer him information on the heist – and is tempted by a wad of cash. But he's soon shocked to learn that he has only 24-hours to get the information otherwise he risks going to jail himself!
Vincent then starts pumping everyone, including Phil, for information… but fails to get anything!
Vincent is then alarmed to discover he has a 24 hour deadline to find the information or risk going to jail himself!
Back in the Square, Phil winds up a now paranoid Vincent…
… And when he returns home, Vincent's odd behaviour baffles Kim. Then he drops a bombshell… watch all the action unfold in EastEnders from Monday 16th April.
Thank you for signing up to Whattowatch. You will receive a verification email shortly.
There was a problem. Please refresh the page and try again.