Blackmailed for £100,000! Aaron has a horrifying encounter with a stranger!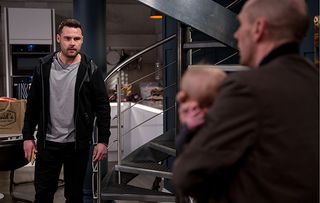 Aaron is blackmailed for money by Syd who ends up kidnapping the Dingle
After celebrating getting one up on Joe Tate, Aaron reels when he finds an intruder in the house, holding baby Seb and demanding a huge sum of money - £100,000! As he, Robert and Cain work out how to deal with the guy, Syd, Aaron is taken hostage by him…
Brenda spends the night away leaving Bob alone in the village. He ends up staying over at Laurel's house and when Brenda realises, she takes revenge on her love rival in Emmerdale.
Rebecca tries to avoid Lachlan finding out about her appointment with a hypnotherapist - but fails.
Aaron finds an intruder in his house, holding Seb and demanding a huge sum of money! Who is he?
With Brenda away, secret lovers Laurel and Bob end up getting passionate.
Taking their affair to the next level, Bob has stayed the night at Mulberry with Laurel.
Brenda has worked out that Bob has stayed the night with Laurel…
… the cafe owner doesn't let on - but when she sees Laurel has left her wallet on the cafe counter, she pockets it!
At Aaron's place, an intruder takes Seb out of his carrier…
Aaron is horrified when he finds a strange man holding baby Seb… The guy, Syd, wants cash from Aaron.
Not prepared to cough up, Aaron and co tackle Syd…
Deciding that the only language Syd understands is violence…
… the guys beat up Syd.
Later, Robert pales when Syd informs him he's taken Aaron hostage! Can Robert save his boyfriend? Will he pay off Syd?
Jai gets his sister Priya's back up.
Priya's having trouble finding work and resorts to dressing up as a chicken for money. But, another crisis is about to hit the Sharmas…
Rebecca is gutted when Lachlan finds out she is seeing a hypnotherapist and insists on going with her. Is his deadly secret about to get out? Watch Emmerdale on ITV from Monday 2 April.
Get the What to Watch Newsletter
The latest updates, reviews and unmissable series to watch and more!