Aaron feels paranoid about Robert and Rebecca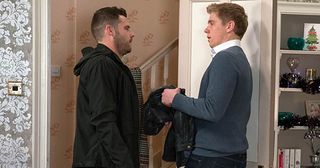 It's Aaron Dingle's birthday, but he's feeling far from happy about Robert's shifty behaviour in Emmerdale
Birthday boy Aaron Dingle is annoyed when Robert seems to have forgotten all about him in Emmerdale!
When his other half slopes off to work, rather than stay at home to celebrate, Aaron's secretly simmering, but it gets worse when he learns his fiance has arranged to meet Rebecca rather than go out for a meal with him. What's Robert playing at?
Aaron's day goes from bad to worse when Chas reveals Liv saw Robert and Rebecca cuddling and Chrissie also can't resist sticking her oar in when she tells him that Robert will only cheat on him, just as he did when he was married to her.
As Aaron's paranoia goes into overdrive, will Robert be able to explain himself? So much for a Happy Birthday!
Birthday boy Aaron is perturbed when Robert sneaks off rather than hang around to celebrate!
His other half can't seem to get out of the front door fast enough.
His other half can't seem to get out of the front door fast enough.
Is that yet another text message from Rebecca that Robert's reading?
Meanwhile naughty pair Gabby and Liv are up to their tricks again. The pair glue a 50 pence piece to the road to see which sucker will try and pick it up. Hello Pearl.....
The giggling girls film a confused Pearl on their phones as she struggles to remove the coin.
However they've also caught someone else on camera. Robert and Rebecca are captured canoodling in the distance!
When Aaron hears from Chas about Robert and Rebecca's clinch his paranoia mounts. Later on he makes his way to the Woolpack, but as he starts to lay into Rebecca, she's forced to admit that Robert's shifty behaviour is because he's been organising a special birthday surprise and she's been helping him!
When Robert turns up, all dressed up and ready to whisk Aaron away for his birthday treat, Chrissie butts in to warn Aaron that Robert will end up cheating on him, just as he did with her. With all the mounting negativity, will Aaron be in the mood for his special surprise? And will Robert's birthday trip for his fiance go to plan? Watch Emmerdale on ITV from Monday, January 2.
Get the latest updates, reviews and unmissable series to watch and more!
Thank you for signing up to Whattowatch. You will receive a verification email shortly.
There was a problem. Please refresh the page and try again.