Aaron threatens to KILL Robert for putting his sister Liv in hospital!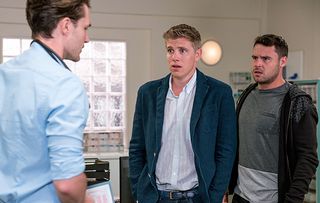 Aaron threatens to kill Robert when his ex's evil actions land Liv in hospital on the critical list
Robert's in the firing line of a very, very angry Aaron whose sister is now in hospital because of him. It comes after Liv, who's returned to Emmerdale after a stint away, heads to Home Farm to confront Robert about getting Rebecca pregnant and breaking Aaron's heart. The row escalates and sees the furious teen nick off in his car and drink the brandy that Robert has been lacing to drug its owner Lawrence White! When unconscious Liv is then rushed to hospital, Robert tells the medics about the drugs, and when Aaron turns up he soon works out what's been going on. Furious with his scheming ex, he vows to kill Robert if Liv doesn't pull through.
Later, back at Home Farm, Robert knows he needs to up the ante if he's to pull off his coup and steal the estate from the Whites. With nothing left to lose, he cosies up to Lawrence, who's received a letter from Ronnie. As Robert pretends to be a like-minded man in a like-minded situation, will Lawrence fall for it? And what will ruthless Robert do next?
Robert's scheming lands Aaron's sister Liv in hospital which results in his ex issuing him with a death threat!
Robert's scheming lands Aaron's sister Liv in hospital which results in his ex issuing him with a death threat!
Aaron works out Robert's been drugging Lawrence White.
The nurses inform Robert and Aaron that Liv is on the critical list.
Angry teen Liv has drunk Lawrence White's brandy which Robert has been lacing with sleeping pills. Liv is now unconscious and in a critical condition.
Aaron rages at his ex, Robert, for endangering his little sister's life.
Aaron warns Robert that he'll kill him if Liv doesn't pull through.
Meanwhile, back at Home Farm, Lawrence spots what he hopes to be an exciting letter among his post.
It's post-marked 'Brussels'. Lawrence hopes it's from his ex, Ronnie.
Will Ronnie have good things to say to his heartbroken ex?
Later, Robert takes Lawrence to one side for a man-to-man chat.
As Robert pours another glass of dodgy booze for unwitting Lawrence, can he convince his ex father-in-law to believe he has his best interests at heart?
Is Lawrence about to fall foul of yet another of Robert's evil plans? Watch Emmerdale on ITV from Monday 18 September.
Get the What to Watch Newsletter
The latest updates, reviews and unmissable series to watch and more!