Charity Dingle goes back in time in a special flashback episode of Emmerdale…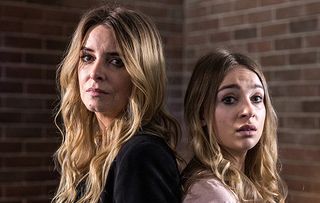 A flashback episode relives Charity Dingle's traumatic teenage past
Charity Dingle's pushed over the edge when Vanessa overhears Harriet asking questions about her dead son. As Vanessa and Harriet team up to try to find out more about the baby boy who died all those years ago, Charity (Emma Atkins) goes on a journey of her own during a flashback episode which opens the lid on her abused past.
In the wake of the shooting, Cain wants answers from Joe. It's Graham who fills him in, which results in Cain then wanting a word with Ross…
Brenda makes waves for Bob and Laurel as the split gets messy.
The cat's out of the bag for Dan and Daz when Amelia finds out the secret that her dads have been trying to hide.
A flashback episode takes Charity back in time reconnecting her with her younger self…
A flashback episode takes Charity back in time reconnecting her with her younger self…
Brenda makes problems for Bob and Laurel by changing childcare arrangements.
Cain Dingle heads to Home Farm wanting answers about the shooting.
Graham explains what happened and fears for what will happen next.
Ross is next in line as Cain drops round for a word.
Dan is cagey when Amelia asks if Daz can come round.
Kerry tells Dan he needs to stop acting so weirdly when Daz's name is mentioned.
Dan and Kerry walk in on Amelia as she's recording her tell-all vlog. She storms out…
… not realising she left it recording. Later, Amelia listens as Dan and Kerry's conversation plays out leading her to learn Daz is her biological dad.
A flashback episode takes viewer back in time with Charity and her younger self…
Vanessa wants to help Charity find out more about her son who died.
Charity time travels to her past.
Her younger self is leading a tormented life.
Actress Mica Proctor brings younger Charity to life.
Trauma and abuse knock young Charity at every turn.
Will Charity's painful journey back in time help or hinder her current pain? Watch Emmerdale on ITV from Monday 28 May.
Get the latest updates, reviews and unmissable series to watch and more!
Thank you for signing up to Whattowatch. You will receive a verification email shortly.
There was a problem. Please refresh the page and try again.