Are Robron going to have a baby? Emmerdale boss drops major hint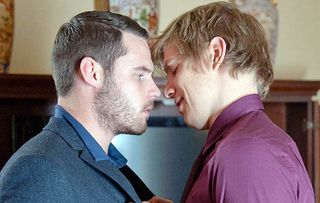 Fans of Emmerdale's favourite couple will be delighted to hear that Aaron's arrest doesn't mean there's no future for Robron – and there may be a baby on the way!
Emmerdale producer Iain McLeod dropped a major hint about the future of Aaron Dingle (Danny Miller) and his fiancé, Robert Sugden (Ryan Hawley), during a live Q&A on Twitter after Aaron was arrested.
The couple were all set to jet off to Las Vegas and get married, but the latest instalment saw Aaron locked up in a prison cell, suggesting their journey down the aisle will be full of obstacles.
After his lover was arrested for grievous bodily harm, after thrashing Kasim (Ethan Kai) in defence of Finn (Joe Gill) on Thursday night, Robert was desperate to get Kasim to drop the charges. Then he discovered it was Finn who called the police!
Right now, Robron's future looks bleak but Iain McLeod appears to have big plans for the couple report the Express.
A fan of the Yorkshire-based soap asked: "@emmerdale #AskIain Will Robron have children one day?"
Iain responded: "I see no reason why not. Aaron bottle feeding a baby would be cute as heck #AskIain #Emmerdale."
Iain also offered fresh details about the much-loved couple's upcoming nuptials when he was asked to describe what their wedding would be like.
He commented: "It's romantic, funny, heartbreaking and intimate."
Ah, so fans do have a wedding to look forward to! And, maybe, a baby!
Emmerdale continues on ITV, Monday, January 23, 7.00pm.
Thank you for signing up to Whattowatch. You will receive a verification email shortly.
There was a problem. Please refresh the page and try again.