'Betty has a proper, happy ending,' reveals Emmerdale's Paula Tilbrook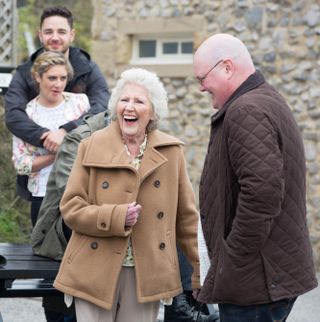 Paula Tilbrook talks to Soaplife about her fond, final farewell to Emmerdale after 19 years of playing gossip Betty Eagleton...
People don't often disappear off into the sunset with a new love in soapland. But Betty Eagleton bucks the trend when her mystery fella whisks her off for a new life in Australia, which marks the start of actress Paula Tilbrook's retirement after 19 years in the show. "I'm over the moon with Betty's exit,' Paula tells Soaplife. "I asked the producer not to have me murdered!"
How do you feel about leaving Emmerdale?
"It was one of the saddest days of my life, but happy, too, as it's so nice to go out like this. Betty has a proper happy ending and who doesn't like a happy ending?"
What do you love about Betty?
"She tries her best, but, as most people do, myself included, she thinks she knows better than anyone else and she isn't shy about telling people how to run their lives. She was a strong woman when she was younger… Well, I say younger. I was still of pensionable age when I joined."
Can you remember your first day?
"I remember it like it was last week. I strode into the Woolpack and said, 'Sweet sherry please!' and 'Is Seth Armstrong about?."
Who will you miss the most?
"That's impossible to say as the cast has a character of its own. When I'm not at work, the people I speak to on the phone are Shirley [Stelfox, who plays Edna], Meg [Johnson, Pearl] and Chris [Chittell, Pollard]. I've been on Coronation Street and Brookside, but no soap has the atmosphere Emmerdale has. I'm going to miss everyone."
Has the show changed since you joined?
"It's unrecognisable. When I came in, Sheila Mercier [Annie Sugden] was in charge and she'd be stood at the table going on and on about something for five minutes. Now we play six scenes in five minutes. She must have had the most enormous amount of script to learn."
Has Betty changed?
"Yes, she's 20 years older and we all change. She's basically the same, though. She loves a good gossip. That's what she lives on."
What have been your favourite moments over the past two decades?
"I loved it when Betty dressed up for Seth. She got all her black things on – tights, high heels, bra and bodice, you know, to get him going. Betty came put one fishnet-clad leg through the door and there was no reaction – Seth was fast asleep on the sofa."
Will you carry on watching Emmerdale?
"Of course! I'll have to keep my eye on them and make sure they're doing things right!"
Emmerdale, ITV
Get the latest updates, reviews and unmissable series to watch and more!
Thank you for signing up to Whattowatch. You will receive a verification email shortly.
There was a problem. Please refresh the page and try again.