Bill Ward reveals James Barton's love cheat in Emmerdale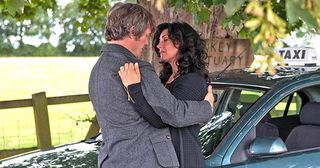 (Image credit: Andrew Boyce)
When Moira wants a kiss and cuddle, James Barton is only too happy to oblige says Emmerdale actor Bill Ward
Feeling unloved and unhappy, Moira Barton turns to brother-in-law James Barton who's always had the hots for her. The pair end up canoodling in the back of a borrowed Barton cab and James is horrified when Moira's bra is later discovered by Emma. 'He is terrified that she will find out it's Moira's,' says actor Bill Ward who plays the frisky farmer…
How are things between James and Emma? "Pretty good, but Emma doesn't like the fact that James has been involved with Holly and helping Moira out."
How does he deal with Emma's nutty ways? "He knows life with her comes with a price tag, she has her foibles, but he kinds of loves her despite and because of them. She is a strong woman who knows what she wants and she is the mother of his children."
Does he have feelings for Moira? "It has crept up on him a bit - it is not on his agenda. He trying to be Moira's best friend and he doesn't have anything else going on in his mind."
Who instigates the kiss? "Moira does. James has always found Moira attractive and admired her strength, motherhood qualities and the fact that she is very much on an even keel. Temperamentally, she is the polar opposite to Emma. They are on their way to a meeting when they stop to rescue a donkey. Moira goes in for a kiss and whilst James backs down briefly, he thinks 'Why not? Let's live for the moment.'"
What happens? "They have a kiss and end up in the back of the car. She keeps her dress on but gets her bra off, so there is some Krypton Factor origami going on. It all gets a bit heavy."
What is the meeting they are going to? "It is about James getting back his share of Butler's. He and Emma want to buy Wiley's Farm and he needs to get some money together."
How does Ross find out that James canoodled with Moira? "Emma finds a black bra in the back of the cab. Ross works out what happened, but he covers for James, saying that the bra belongs to a woman he got off with."
Does James fear Ross will tell Emma the truth? "He hopes he won't. In his head, James thinks he has done nothing wrong as they didn't have sex. It was just a long kiss with some fumbling. Even so, James knows that it won't go down well with Emma if she happens to find out."
Get the latest updates, reviews and unmissable series to watch and more!
Thank you for signing up to Whattowatch. You will receive a verification email shortly.
There was a problem. Please refresh the page and try again.