'Charity has to watch her back with Frank!' says Emmerdale's Emma Atkins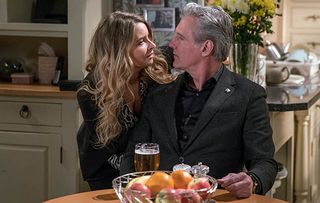 Charity and Frank can't resist each other, but that could be dangerous, for both of them, explains Emmerdale's Emma Atkins
We've seen how Frank Clayton hates that he and Charity Dingle are good together in Emmerdale. He might not hate it so much if she weren't holding that recording of him revealing just how badly he treated daughter Tracy's mother.
The increasingly solid relationship he is building with Tracy and his other daughter, Vanessa, would crumble if they heard Charity's recording. And, of course, it would be the end of him and Megan.
"Megan and Charity rub each other up the wrong way," Emma Atkins told Soaplife. "Charity plans to use Frank to get one over on Megan. She hopes to make her jealous by stealing him from under her nose."
So Charity is enjoying the criminal alliance she's formed with Frank? "Charity just loves getting up to high jinx. It's when she feels most alive. Not only has she managed to pull off a scam with one of the most mischievous men in the village, but she's got one over on the Whites, one over on Megan [Gaynor Faye] and, on top of that, she's got Frank [Michael Praed] over a barrel. What's not to like?"
Does Charity fancy Frank or is it strictly business? "Yes, Charity's definitely attracted to him. She's been feeling a bit lonely after her break-up with Cain [Jeff Hordley]. She likes to have male attention and Frank's charismatic with a naughty streak and a taste for old-school troublemaking. She certainly doesn't want him to be with Megan."
Do you think Charity's in danger of being conned by Frank? "I've no doubt Frank will try to get his own back on Charity. She will just have to watch her back!"
How would she react if he betrays her? "I expect there'd be some kind of chemistry-fuelled warfare between the two of them, and you can expect Charity would seek sweet revenge in some way."
Of all the scams Charity's been involved in, do you have a favourite? "I never know what Charity's going to be wearing next, which is great fun. I did enjoy shooting myself with a tranquiliser gun. That was a great day as we were filming on location, which only added to the fun."
Charity's also got an enemy in Chrissie White. Who would win in a battle between them? "Of course, I'm going to back Charity every time! But Charity versus Chrissie [Louise Marwood] would be a really fun dynamic to explore."
Emmerdale, ITV
Get the latest updates, reviews and unmissable series to watch and more!
Thank you for signing up to Whattowatch. You will receive a verification email shortly.
There was a problem. Please refresh the page and try again.