Charlie Hardwick looks back at Val's biggest moments on Emmerdale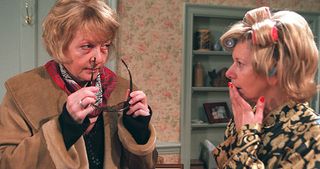 There's never been another soap character quite like Val Pollard. Emmerdale will be a duller place without the B&B owner who died on the day of Debbie and Pete's wedding when a helicopter ploughed into the village hall.
Charlie Hardwick, who played Val, says she'll miss the garrulous Geordie, but felt it was time to bow out of the soap. Here she pays tribute to the inimitable Val Pollard.
Hello Emmerdale
February 2004 Diane Sugden answered the door to find her sister Val standing there, wearing a pair of sunglasses to hide a bruised face. Val said her boyfriend Eugene Brown had beaten her up, when in fact she'd had a nose job.
Grand passion
April 2006 Eric and Val were a passionate couple who gave into their urges all over the shop. They got carried away and made love in the back of a van before the village Easter Fair.
Meant to be
December 2007: Eric Pollard proposed to Val and she showed off her ring in The Woolpack. "I have loved working with Chris Chittell who plays Eric Pollard. It is a great partnership on screen and personally," says Charlie.
Secrets and ties
June 2008: Eric shocked Val with a surprise wedding – although Val was kidnapped by the Dingles and overheard them talking about Eric's plan. Eric rescued her and they had an almighty row, but ended up tying the knot.
Queen of the Dales
December 2008 – Val threw a toga party for New Year's Eve and wanting to be the best dressed, she went for a full-on Grecian lady rather than an old sheet.
Not-so-great escape
August 2009: Eric decided to flee to Australia without telling Val, but he left his mobile behind and Val assumed he had planned another surprise. Eric was gobsmacked when Val sat down next to him on the plane. He asked her to move, but when she broke down, they kissed and made up.
Embracing Amy
December 2011: Val and Eric took Amy Wyatt under their wing and were shocked when the teenager gave birth to her son, Kyle, alone in the cemetery. Amy begged for forgiveness, but she was the one person who could do no wrong in Val's eyes.
Scoot!
June 2012: Eric and Val had some stupendous rows, but nothing quite beat the time she ran him over on a moped!
Yuletide bash
December 2013: Val didn't get on with Amy's biological mum Kerry and they came to blows and ended up throwing Christmas decorations at one another.
Life-changing holiday
February 2014: After a holiday fling in Portugal, Val was diagnosed with HIV. "What a cheek – she came back all sanctimonious when he had been with Brenda," remembers Charlie.
The ordeal put a terrible strain on her relationship with Eric who could no longer bear to be physically intimate with her. "She saw that they had no future," says Charlie, "no matter how much they liked one another."
Back for more
June 2014: Realising she couldn't live without him, Val got down on bended knee and proposed to Eric and they married for a second time. "They were up and down like a fiddler's elbow," laughs Charlie.
Wake-up call
March 2015: After not taking her HIV diagnosis seriously and ignoring a persistent cough, Val passed out at the B&B and ended up in hospital. It was a wake-up call and she vowed to look after herself and take her medication.
Val undercover
June 2015: Val donned a wig and pretended to be Brenda to help Bob secure a loan for his daughter, Carly. They got caught and Val was so terrified of ending up in jail, she decided to fake her own death. A sad foreshadowing of things to come.
Rest in peace, Val
Get the latest updates, reviews and unmissable series to watch and more!
Thank you for signing up to Whattowatch. You will receive a verification email shortly.
There was a problem. Please refresh the page and try again.