Emmerdale's Charlotte Bellamy: 'Laurel's trying to keep the family together, but it's impossible!'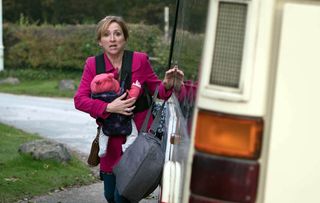 Emmerdale actress Charlotte Bellamy reveals how Laurel reaches breaking point as her ailing husband Ashley's condition worsens and Gabby starts playing up
Nobody would want to be Laurel Thomas in Emmerdale right now. She has a baby to care for, her husband, Ashley, is deteriorating rapidly and stepdaughter, Gabby (Rosie Bentham), is once again going off the rails.
The teen is so upset about her dad that she gets blind drunk, collapses and ends up in hospital. "The strain is enormous and Laurel feels out of her depth," Charlotte Bellamy, who plays Laurel, tells Soaplife. "She needs help with Ashley, but she's tormented by guilt about putting him into daycare."
Is Laurel about to crack?
How is Laurel coping? "She didn't know what to expect with Ashley and says, 'I didn't know it would be this hard.' The reality is setting in. She has a baby and kids to look after, and she's preoccupied with the business of being a mother, but Ashley also needs a lot of care and attention. It's really tough."
What happens with Gabby? "Laurel gets a call to say she's been playing truant. She has a talk with her and says Ashley's illness isn't her problem. She needs to let go a bit and enjoy being young and carefree, but Gabby misinterprets this and gets drunk. Liv [Isobel Steele] takes a video of her, which Tracy shows to Laurel, then Gabby ends up collapsing and being taken to hospital."
What else goes wrong? "She has this terrible day where the car doesn't work, the children are ill and she has to take Ashley on the bus with her to visit Gabby in hospital. When they get to the hospital, Ashley's confused and hits Laurel after arguing with her, so she ends up with this fat lip. She's just trying to keep the family together, but it's impossible. You just can't do it when you're trying to look after somebody with dementia."
Why does Laurel decide to take Ashley out of day care? "Because she's tormented by guilt. It's also hard for her to let go. She thinks if she lets Ashley go, he might never come home. She also worries that people will look at her and think, 'She can't even look after her own husband'."
What happens when Sandy gives Laurel a break? "He offers to look after the kids and so she spends some time with Nicola [Nicola Wheeler]. But when she gets home, she finds Ashley outside the house in his pyjamas. Then, he nearly gets run over when he steps in front of Diane's car. He's just not safe any more."
What does she do next? "She lies to Ashley and tells him it's time for bed when it's not. She can't think of what else to do. She's desperate. At least if he's in his room, he'll be safe. It's got to a point where she can't take her eyes off him."
How much worse will it get for Laurel? "Ashley's condition is only going to worsen. We'll have to wait and see how she copes. But from our research, I've seen that dementia can rip a family part or it can pull people together. Families can get through this however awful the outcome might be. We all know Ashley actor John Middleton is leaving so, ultimately, it's going to be awful."
Emmerdale, ITV
Get the latest updates, reviews and unmissable series to watch and more!
Thank you for signing up to Whattowatch. You will receive a verification email shortly.
There was a problem. Please refresh the page and try again.