Chas is back – and she wants Paddy, reveals Emmerdale's Lucy Pargeter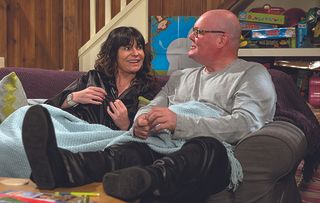 Chas Dingle is back from Ireland and ready to make a go of things with Paddy Kirk, reveals Emmerdale's Lucy Pargeter
Chas Dingle returns home to Emmerdale, having nursed her stepdaughter Liv Flaherty's mum back to health. And the first thing she does is make a passion play for Paddy Kirk.
What's the story?
"Being away made Chas realise how much she likes Paddy," Lucy Pargeter told Soaplife. But how will Paddy react when he hears Chas had another fella in Ireland?
Lucy Pargeter reveals all to Soaplife
Soaplife: Did you enjoy your maternity leave?
Lucy Pargeter: "Yes, I really enjoyed the challenge of looking after my twin girls. I had to come back, though. I don't think anybody should be off screen for too long as you never know who is going to take your place! It is a bit of a struggle managing to fit in everything at home and work but, to be honest, it is a little bit of an escape from the madness!"
S: And now Chas is back!
LP: "Yes. Liv's mum is better now, so Chas is ready to go back to work at The Woolpack."
S: How will she get on with Charity at the pub?
LP: "Chas will try and reign her in as she is a law unto herself and I am surprised she was left in charge of the pub. They have got a brilliant love-hate relationship. They will have some spats I am sure but it will go back to what it was."
S: Why is Chas all over Paddy?
LP: "Being away and sleeping with another man has just confirmed her feelings for Paddy."
S: But how will Paddy feel about the other man?
SP: "Chas has been away, so there is no reason why she would have told him. He might be put out if he hears about it from another source, though…"
S: What would like for Chas's future?
LP: "Much the same… Stuff with Aaron and Liv and Charity. Chas will be dipping into everybody's storyline. Being in the pub is like being at gossip central!"
Emmerdale, ITV
Get the What to Watch Newsletter
The latest updates, reviews and unmissable series to watch and more!