Emmerdale star Emma Atkins reveals what it was like to film Charity Dingle's 'terrifying' courtroom drama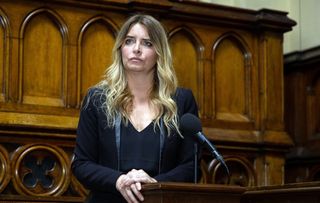 'This is the most terrifying thing Charity has ever had to go through' admits Emma
With the court case against DI Bails looming, Emmerdale's Charity Dingle (Emma Atkins) is fearing the worst. Not only is she convinced the man who abused her when she was a teenager is going to get away with his crimes scot-free, but she's also terrified at the thought of talking about her ordeal in court.
"She knows what she has to do, and she knows she has to confront Bails, but that doesn't stop it being very unpleasant," confesses Emma Atkins, who has played Charity in Emmerdale since 2000. "She is having to stand up in front of strangers and tell them the nitty gritty of what happened all those years ago - everything she really doesn't want to be saying out loud. This is the most terrifying things Charity has ever had to go through."
And while her alter ego is terrified about taking to the stand and reliving what she went through at the hands of evil DI Bails, Emma also told us that the whole thing was pretty scary for her, as well! "We filmed in a real court in Bradford which was an experience in itself," laughs the actress.
"The court room was so grand and echoey, and there were so many people there because of the jury, the people supporting Charity and then of course those there for Bails, as well. It was a great learning curve for me as an actress - it was a daunting day for Charity and also for me!"
While Emmerdale fans are desperate to see Bails get locked up for a very long time, Emma also told us that whatever the outcome in court, Charity's ordeal is far from over. "Her past is starting to eat away at her and the court case can't fix things. Vanessa has been her rock throughout this whole thing, but when she tells Charity that she needs to go and see a counsellor, she's not having any of it. Dingles don't get counselling!
"Charity is going to do what she does best and go back to being the usual ballsy character that we all know and love. She will bury her past in the basement of her psyche and deal with everything in her own brilliant way."
Emmerdale continues on ITV.
Get the latest updates, reviews and unmissable series to watch and more!
Thank you for signing up to Whattowatch. You will receive a verification email shortly.
There was a problem. Please refresh the page and try again.