Emmerdale: Rhona knows about Paddy and Tess… Will she tell Tess's grieving husband?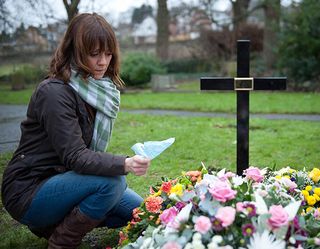 So, Tess Harris (Nicola Stephenson (opens in new tab)) is dead, killed in one of Emmerdale's dramatic plot twists, which saw her mown down by drunk driver Kirin Kotecha (Adam Fielding (opens in new tab)).
But her affair with Paddy (Dominic Brunt (opens in new tab)) won't be buried with her…
Our preview pictures show Paddy's wife, Rhona (Zoe Henry (opens in new tab)), at Tess's grave – but she's not grieving.
Is Rhona planning to leave a tell-all note for Pierce at Tess's grave?
By the time Tess has been buried, Rhona will know that she had an affair with Paddy (she finds out on Thursday, February 18) and she's hurt, heartbroken – and angry.
When Tess's husband Pierce ( (opens in new tab)Jonathan Wrather (opens in new tab)) appears at the cemetery, he finds Rhona there. Will he also find out about Tess's affair?
Pierce wants to speak to Rhona when he sees her at the cemetery
Rhona is in turmoil… She thought Tess was her friend, not her husband's secret lover.
Paddy told Rhona that Tess's last words were "I love my husband" and Rhona pushed Paddy to tell Pierce that.
But Paddy had been lying then. Will Rhona continue the lie now?
She's suffering because of what Paddy and Tess did… But is she angry enough to make Pierce suffer, too?
Will Rhona tell Pierce that the wife he's grieving for was a love cheat?
The pictures also show Rhona with a note in her hand which she then crumples up… Is it a message she planned to leave for Pierce, revealing the bitter truth, but changed her mind?
Rhona crumples up the note. Will she keep Paddy and Tess's affair a secret?
Does she decide satisfy herself by just getting revenge on Paddy?
We can also reveal that Rhona is going to turn to her ex, Marlon Dingle (Mark Charnock (opens in new tab)), after she finds out about Paddy's betrayal.
"What we're still filming now is a rollercoaster of emotions," reveals Zoe. "Rhona is shocked and angry. Through that journey, she looks back at the crossroads in her life. She thinks, 'If I hadn't left Marlon, this would never have happened and never have hurt as much as it has'. So she questions that inevitably and I think it freaks Marlon out a bit. She tries to kiss him."
Shocked, Marlon knocks her back.
"And Rhona realises it would just be adding fire to fire and not resolving anything," says Zoe.
But Marlon and Rhona have son Leo together. He does care about her and she will lean on him for support.
Where does that leave Rhona and Paddy?
Viewers were shocked when Paddy cheated on Rhona, believing them to be the most solid couple in Emmerdale.
With their marriage crumbling, is there enough of a foundation for them rebuild it on?
Emmerdale (opens in new tab) continues on ITV, Monday, February 15, 7.00pm.
Get the latest updates, reviews and unmissable series to watch and more!
Thank you for signing up to Whattowatch. You will receive a verification email shortly.
There was a problem. Please refresh the page and try again.