Emmerdale's Chelsea on Amy's baby blues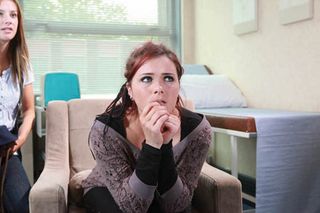 Emmerdale's Chelsea Halfpenny tells Soaplife that troubled teen Amy is terrified of Cain - but she still wants to have his baby... Finding out she was pregnant after her one-night stand with Cain was a huge shock for Amy - nearly as shocking as Cain's furious reaction. He's told her to get rid of the baby and drives her to the clinic to make sure she does. Only she doesn't. "When she sees the baby on the scan she realises this is actually her child and changes her mind," says Chelsea. Cain's going to love that - NOT! Was Amy shocked to find out she was pregnant? "Yes. She didn't ever imagine it would happen – especially not from just a one-night stand. And it couldn't have come at a worse time because she's fallen out with Val and Eric." She's sure it's Cain's baby? "Amy adds up her dates and there's no doubt it's his. She was expecting Cain to be more sympathetic, but he's really angry - and she's really scared. She's got no one to talk to apart from Victoria - and Victoria can't protect her from Cain." Is Cain forcing Amy to have an abortion or is it what she wants, too? "Amy's easily swayed. Because of how badly Cain reacts she thinks the best option is to get rid of the baby. On the day, she just wants to get it over with. Cain drives her to the clinic to make sure she goes through with it. Victoria's with her, too." So what changes her mind? "She sees the ultrasound scan of the baby and realises she doesn't want to get rid of it. Because Amy hasn't had love in her life she doesn't want to do that to anybody else." It's a big decision... "The only thing worrying her is Val and Eric – whether they'll help her." What about Cain? "She gets Victoria to lie to Cain that she's gone ahead with it, but is suffering and may be some time." He'll find out eventually, though, won't he? "Yes and Amy's terrified – especially when Victoria fills her in on what Cain's done before, like battering people. So she really wants Val and Eric on her side because she doesn't want to get hurt." But her plans to confide in Val don't work out, do they? "No. Val and Eric have been played by Amy too many times and they're sick of it. So Amy might change her mind all over again - only by then it might be too late."
Get the latest updates, reviews and unmissable series to watch and more!
Thank you for signing up to Whattowatch. You will receive a verification email shortly.
There was a problem. Please refresh the page and try again.