Emmerdale's Gemma Atkinson: 'Carly makes the move on Marlon, but he feels he took advantage!'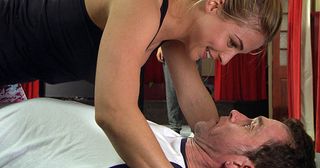 Emmerdale actress Gemma Atkinson says it could be the start of something special when Carly Hope and Marlon Dingle sleep together
They are the unlikeliest of couples, but the strong bond of friendship between Marlon Dingle and Carly Hope in Emmerdale could turn to love, Gemma Atkinson tells Soaplife.
How do Marlon [Mark Charnock] and Carly [Gemma] end up getting it on? "They do this self-defence class and Carly falls on Marlon, who gets really uncomfortable with the close physical contact. You will see then that he does like her. On the birthday of her son Billy who died, Carly has a really bad time. She has a bit to drink and the only person who knows about Billy is Marlon, so she confides in him. Carly makes the move, she goes in for a kiss and they sleep together."
What happens afterwards? "Marlon feels he took advantage of Carly, but in her eyes it wasn't like that. They then keep trying to avoid each other."
Do you like the idea of Carly and Marlon as a couple? "I think it is a really good coupling. Marlon is the only one who knows her secret about her baby and there is a mutual respect and genuine affection there. Carly has always gone for hunky guys, so it is nice to see her with someone who genuinely cares about her."
How did you feel about having to kiss your co-star Mark? "The day before, he said to me, 'What are you like with kissing scenes?' He went on to say that some people feel awkward with them and I said, 'I am only feeling awkward because you keep asking me about it.' It was fine actually.
"When I first started acting years ago, I used to get so nervous, but now kissing scenes are like any other."
Mark is quite tall – how do the logistics work? "Wardrobe are thrilled because I am 5ft 9in so I am quite tall, too. When I am with Vanessa, I have to wear flats because she is only 5ft 2in, but with Marlon, I can wear heels. They've bought me lots of nice new shoes."
What will it be like when Paddy [Dominic Brunt] returns to Emmerdale? "Our new producer Iain MacLeod explained that with Carly, Marlon and Paddy, it will be like the film You, Me and Dupree. Carly loves them both and she will want their bromance to continue. However, Marlon will be torn between Carly and Paddy, who won't have Rhona [Zoe Henry] any more. It will be quite comical and light."
Get the latest updates, reviews and unmissable series to watch and more!
Thank you for signing up to Whattowatch. You will receive a verification email shortly.
There was a problem. Please refresh the page and try again.