Emmerdale's Gillian Kearney: 'People like Emma don't know they are lying'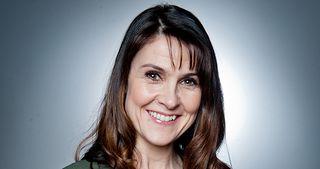 At first glance, Emmerdale's Emma Barton looks about as threatening as a kitten. With her fragile frame, doe-eyes and sweet smile you would never guess that beneath that gentle exterior lies one of the best soap baddies we've seen in a long while.
And nobody is enjoying the conniving nurse more than actress Gillian Kearney who tells TV Times what lurks beneath the surface of Emmerdale's complicated baddie...
Is this the first dark character you've played?"
"I was a murderer in Blue Murder and Murder In Mind and then I was a paedophile's wife in Suspects. My character was luring boys to her husband's house for abuse. I always try and play my dark roles realistically. I give them emotional truth. People like Emma don't know they are lying."
Emma goes into overdrive next week when she gets rumbled. Tell us what happens...
"Having failed to get ex husband James back after a night of passion, she fears that he is about to reunite with Chas Dingle. She will never give up until she gets her man back. The trouble with Emma is, she always gets found out because she's not very good at hiding things."
Emma sets out to blackmail Debbie and Ross after suspecting there is something between them. What does she do?
"Blackmail is too strong a word to use. There are grey areas. Emma can see that Debbie makes Pete happy and she genuinely doesn't want Ross to ruin that. She threatens to spill the beans, but only, in her mind, because it will keep the family together."
When you first auditioned for the role of Emma, did you know she wouldn't be black and white?
"The director said 'I want you to be the woman from hell' and then, the next time he made me do it, he said 'I want you to be really vulnerable.' They have always known that she would be this complicated character, which is great."
You have to be up early for a long commute from home in Liverpool to the studio in Leeds. How are you managing the early starts?
"I am getting into a good routine now, I go to bed at the same time as my little boy John, who is four and a half now. I get up at 5am, but it's fine because I am a morning person rather than someone who likes to stay up late."
Do you enjoy being part of Emmerdale?
"I love it. Before I started, people said that I would love Emma's sons because Anthony Quinlan, Mike Parr and Joe Gill are such lovely boys. It is strange being their screen mum as my own son is so little."
Does your son watch you on TV?
"I don't put Emmerdale on in front of him much because I don't want him to freak out. I was talking about Joe the other day and he said 'Is that Finny?'
"I said it was and John then replied 'He is not your real son, I am your son aren't I? and I replied 'Yes, it is just you John.'"
Are you in Emmerdale for the duration?
"I've signed up for a year. I don't know much about my future in the show, but for the time being I couldn't be happier."
Do you think Emma will ever stop trying to get James back?
"People like Emma can't help themselves. This obsession about having James back is like an illness. It is kind of crazy, but you know, a lot of people sympathise with her."
What do you think of your character?
"When I go out, some people tell me that Emma is awful, but others think she has had a bit of a raw deal. Personally, I admire her. She's got more spirit than I have!"
Get the latest updates, reviews and unmissable series to watch and more!
Thank you for signing up to Whattowatch. You will receive a verification email shortly.
There was a problem. Please refresh the page and try again.