Emmerdale's Liam Fox: 'Dan's between a rock and a hard place after Sean's crash'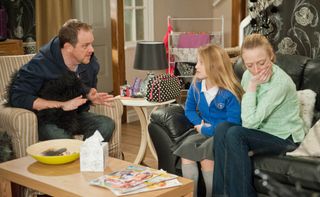 Emmerdale actor Liam Fox tells Soaplife that Dan is torn between Kerry and his family over Ali's plan to move nearer to their son…
Is Dan worried about Sean?
"Yes. He didn't want him to be in the army in the first place, but he knew it was his dream and he had to let him go. Now he's had a serious car accident and the prognosis isn't good."
How bad are his injuries?
"He has severe burns as a result of the crash and as much as they can do skin grafts, he is never going to be the same kid again. He will be reminded of the accident every time he looks in the mirror."
Ali plans to move to Liverpool with Amelia to be nearer to Sean… how does Dan feel?
"He wants his family to stay put. He has suggested that it might be too early to move nearer the hospital as they don't know how long Sean is going to be in."
How does Dan feel when Amelia announces she is staying behind?
"He loves the idea of having Amelia around, but doesn't want Ali [Kelli Hollis] to feel rejected as it might be hard for her to accept that her daughter would rather be with her dad. He is stuck between a rock and a hard place."
Why does Dan eventually decide to go with Ali?
"He feels he has to do his bit. He shouldn't be at home while the rest of the family are taking care of Sean. Obviously he wants to be with Kerry [Laura Norton], but his real need is to be there for his kids."
What will Kerry do?
"Dan really wants her to come but she has a job and commitments in the village so she can't just pack up and leave. However, she does eventually say she will go too and Dan is over the moon."
Do they both go to Liverpool?
"No, something happens which changes their plans and Amelia is left behind. Dan struggles with that but Kerry goes out of her way to be a great maternal figure to Amelia and partner to Dan. However, as is always the way with Kerry, it doesn't go as expected..."
Get the latest updates, reviews and unmissable series to watch and more!
Thank you for signing up to Whattowatch. You will receive a verification email shortly.
There was a problem. Please refresh the page and try again.