Emmerdale's Louise Marwood: 'Cain and Chrissie's confrontation is sexually charged!'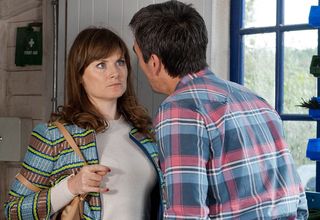 It sounds like Emmerdale's lady of the manor, Chrissie Sugden, is going to regret getting mixed up with Cain, Louise Marwood tells Soaplife.
Somehow, Robert and Chrissie are still together. She knows her supposedly devoted husband staged the robbery at Home Farm that nearly killed her father and has forgiven him. But Chrissie is watching Robert like a hawk and she's suspicious…
"Chrissie can see that Robert's lying about something," says Louise (opens in new tab). And trying to sniff out his secret leads her to the garage… and Cain - and they kiss! Now Chrissie thinks she has a secret. But Harriet caught the kiss on camera…
So, what is Robert up to?
"He's trying to find Adam [Adam Thomas (opens in new tab)] and Victoria [Isabel Hodgins (opens in new tab)], as he doesn't want his sister with Adam. He's got Adam's phone and is sending texts to make out that he's on a trip and that all is fine and dandy when he's really doing a runner with Victoria. Chrissie knows none of this, of course. She sees Robert acting suspiciously with a phone and he won't tell her who it belongs to or what it's for."
What does Chrissie think?
"Because Robert [Ryan Hawley (opens in new tab)] has already lied to her over the robbery, she's looking out for more lies and turns the phone into something bigger than it is. She wonders if it's an affair phone. A drugs phone. Is Robert in cahoots with Ross again? Her mind is in overdrive."
Why does she think that Robert's tangled up with Ross?
"She sees Robert giving Ross [Michael Parr (opens in new tab)] some money. He's actually giving it to him to fix a car for Harriet, who Robert's hired to find Adam and Victoria. But, again, Chrissie doesn't know that, so she storms over to the garage to have it out with Ross."
What happens when she gets to the garage?
"Ross isn't there and Chrissie ends up confronting Cain [Jeff Hordley (opens in new tab)]. The whole thing is quite sexually charged and that sparks something off in Cain and he kisses Chrissie, who kisses him back. Then Cain pushes her off and says, 'Do one', which is the last thing you want someone to say when they've just kissed you up against the wall of their filthy garage."
Is this going anywhere?
"No. It's quite unlike Chrissie and I think Cain's doing it to prove he can still be a bad boy, as he's quite domesticated at the moment. Them sleeping together isn't on the cards."
Chrissie doesn't know she's been caught on camera by Harriet, does she?
"No… But when she and Robert host a dinner party for Cain and Moira [Natalie J Robb (opens in new tab)], she senses that Robert knows things. He plays games and is a bit mean which leaves Chrissie feeling confused."
Does Chrissie still love Robert?
"Yes, he's her rock, her everything. They're best friends; he's her soul mate and a father figure to Lachlan."
So finding out about his affair with Aaron would destroy her…
"It would be the end for them. It's the ultimate betrayal. It's not so much that it's a homosexual affair, but that it has gone on for so long with someone who's so much a part of their lives."
Emmerdale (opens in new tab), ITV.
Get the latest updates, reviews and unmissable series to watch and more!
Thank you for signing up to Whattowatch. You will receive a verification email shortly.
There was a problem. Please refresh the page and try again.